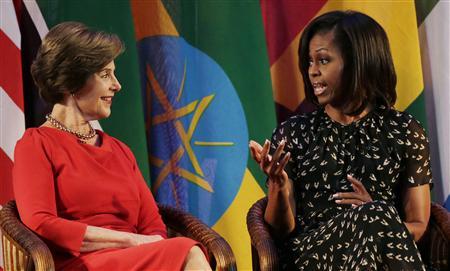 U.S. First Lady Michelle Obama and predecessor Laura Bush combined their star power to draw attention on Tuesday to efforts to improve women's health and welfare in east Africa.
Michelle Obama is visiting Tanzania on the last day of President Barack Obama's eight-day tour of Africa. She helped Laura Bush open a summit of the wives of African leaders, saying Africa was "at the hub of global development". The summit aims to promote women's well-being on the continent.
The unusual Obama-Bush combination spotlights U.S. interest in the continent and the importance of Africa to the legacy of the president and his predecessor George W. Bush.
For Obama, his three-nation tour has given him a break from a row over spy agency eavesdropping and a chance to promote U.S. commercial interests to a receptive African audience.
Bush, who launched a widely praised program to combat HIV/AIDS in Africa when in office, was due to join Obama for a ceremony to remember the victims of the 1998 U.S. embassy bombing in the Tanzanian capital.
An expansion of a program to detect and treat cervical and breast cancer, Pink Ribbon Red Ribbon, is due to be announced on Wednesday, organizers said. Former President Bush is due to speak at the first ladies' summit the same day.
The United Nations and non-governmental groups, including Bush's foundation, launched Pink Ribbon Red Ribbon to provide health services to women in sub-Saharan Africa and Latin America, building on the U.S. HIV/AIDS prevention program.