Africa has moved on and its growing and innovative use of mobile technology is about to be channeled into addressing the continent's power deficit by using cheap, renewable energy for sustainable development.
By Ayo Okulaja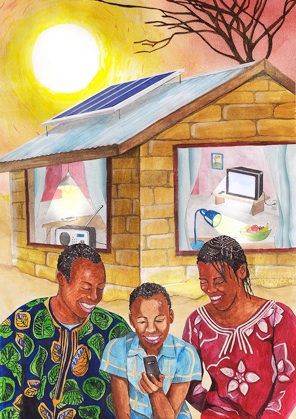 This was the focus of a session: Green Technology in Practice – How To make Solar Energy Affordable at the just concluded 2013 Deutsche Welle Global media Forum in the city of Bonn, Germany.
Mobisol, a German start-up company is leading this power revolution which according to its 30-year old founder, Thomas Gottschalk "this revolution will be a peaceful one."
There are about 1.2billion people in the world that are off-grid (not connected to power at all), Thomas identified this a huge market but these people cannot afford the very expensive renewable energy hence the invention of Mobisol solar home mobile system and its innovative mobile payment system.
The solar home mobile system is powered by a mobile phone which is remotely controlled from Germany once a client loads money on the phone via the mobile payment, the solar system is activated and power is supplied. All communication with customer is SMS based thereby reducing payment default.
According to Thomas, the company in its pilot scheme that has installed over 840 solar home mobile systems in remote areas of Kenya and Tanzania is helping people to save and wisely spend the money that normally goes on fossil fuel.
Another feature that moved Thomas's audience was the capacity of the mobile payment to allow payment from anywhere in the world. "So if you don't have the money and you have a son or daughter who is living abroad or in the city, so through mobile money, the relative can just make the payment and power switches on."
Thomas identified that the age-long bottleneck challenge of payment on solar power has been addressed with the mobile payment innovation as well as maintenance as residents are being trained on how to carry out minor repairs on the panel and battery in case of any problems.
1000th Clients
To make the system very affordable, the solar panel and battery is pre-financed by Deutsche Investitions und Entwicklungs-gesellschaft (DEG) as its payment is spread over 36months thereby making this a very affordable source of power.
The Mobisol boss gave the assurance that so far the clients have been very faithful with their payments and no record of theft.
50-52 Mobisol solar home system are now installed weekly and Thomas reveals that the company is aiming for its 1000th customer this July.
Thank you China
Questions were asked on the impact China's cheap solar panel has had on the price of solar technology and the panelists agreed that the Chinese have crashed the price with their inventions. Chairman of DEG's Management Board, Bruno Wenn stated that "without the Chinese involvement, we would never have witnessed the sharp decrease in cost of the panels."
He added that a research conducted by the European Union a decade ago predicted prices that are ten times what it is today for 2013
"We need to say thank you to China because they really-really pushed German companies to reduce their prices" added Thomas
He also enjoined European media and business to stop looking at Africa as a donor space but a fertile ground for immense economic growth. He noted that Africa is full with homes that are filled with solar panels that are not working after three – five months because the panels are provided by donor models.
It is time to develop a business model via modern and mobile technology as Mobisol is doing that will guarantee immense economic growth for Africa and investors who have failed to develop an adequate business model.
I asked Thomas why Mobisol is not yet in Nigeria with a population of over 160million people and generates less than 3000MW of electricity as a Kenyan colleague also asked why the company is not aiming for its 3,00000000th customer instead of 1000th.
He expressed the desire of his company to spread but warned that it must be cautious so as not to "break its neck if it spreads too fast" and this was further corroborated by Mr Wenn, who warned that "this is a start-up. There is a huge market in Africa and outside and you cannot expect that a start-up to tap all of it. They need to have more organic growth otherwise this business model will not be sustainable."
The poignant impact of continued use of fossil fuel was accentuated by South African journalist, Alani Janeke, who revealed that about 400,000 hectares of the country's most arable zone is about to be devastated due to coal mine.
Africa's environment can key into the continent's ongoing economic surge if the development is based on renewable energy and sustainable development for an inclusive growth as venture such as Mobisol will give President Obama and the US government, a run for their money.
The US President during his just concluded visit to the continent announced the sum of $7billion to be invested the powering the continent.