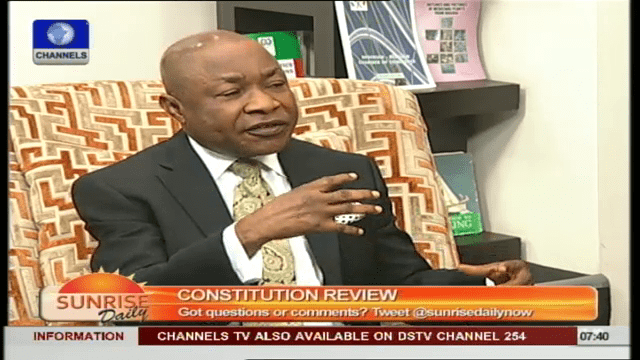 The Chairman Editorial Board, National Daily Newspapers, Chris Akiri, has accused the National Assembly of being more corrupt than the executive arm of the government and is only trying to impose itself on that arm by instigating a removal of the immunity clause protecting executive officers from prosecution while in office.
Speaking as a guest on Channels Television's breakfast programme, Sunrise Daily, Mr Akiri said the National Assembly's motion to remove the immunity clause won't stand the test of time.
He hinted that corruption is rife in the National Assembly than in the executive arm. He questioned the House's determination to remove the immunity clause on the executive arm "when in fact the root of corruption in Nigeria, the big oak tree root of corruption in Nigeria is in the National Assembly".
Mr Akiri, who is also a legal practitioner, averred that what the nation needs is a brand new constitution because the present one is "a lie, a statutory lie."
He pointed out that the 1999 constitution is full of inconsistencies. "The constitution is an amalgam of rank inconsistencies, it is at once federal and unitary, and it is at once secular and theocratic, it is at one democratic and authoritarian."
He added that "the constitution should not just be amended but it must be reviewed," defining amendment as a "cosmetic change" and a review "a total overhaul".
The removal of the immunity clause will expose the President, a key member of the executive arm of government, to impeachment by the legislative arm and regimentation by the judiciary which runs against the standing clause that all arms of government should intimidate each other, he said.
He added that it would allow for frivolous petitions and accusations against the executive officers by their opposition.
"The only court which the president should be answerable to is the Nigerian parliament" and if he is to face criminal charges, it has to be charged after he vacates office.
However, Mr Akiri states that the problem is "even when he leaves office, he is regarded as a sacred cow" adding that there is no political will to deal with erring executives immediately they vacate office.