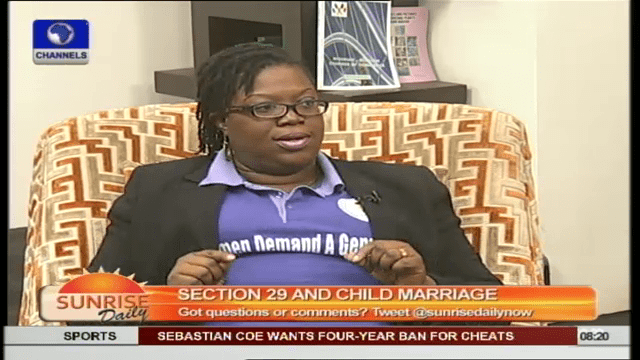 The National Coordinator, Gender and Constitution Network, Dr. Abiola Akiyode Afolabi has said that Nigeria's signature to international conventions such as UN Convention on Rights of Child, Protocol on the Rights of Women in Africa, African Charter, African Protocol on the Rights and Welfare of a Child, demands that it conforms to the global standard which stipulates 'the majority age of a child as 18.'

While speaking on Channels Television's breakfast programme, Sunrise Daily, the female rights activist, who was present at the Senate meeting when lawmakers voted to maintain the now controversial Section 24(4)(b) of the 1999 constitution said "the argument of the Senator (Sani Yerima) is actually unnecessary."
The clause in question states that any woman who is married shall be deemed full of age is in reference to citizenship renunciation and not marriage, as widely misconstrued.
"It is important for us to put the facts straight. Section 29 is dealing with citizenship issue and renunciation of citizenship," she said.
She added that "the constitution is not supposed to be addressing the issue of marriage" as stated by its exclusive list which does not allow the National Assembly to make laws related to customary and Islamic marriage."
However, "one of the reasons why we are arguing for the deletion is also for us to ensure that we don't have ambiguity in the constitution."
"If Section 29(a) which says full age is 18 and above, why do you need another section determining a particular gender which can be called full aged."
She disclosed that the culture of marrying off underage girls to men is not peculiar to Northern Nigeria as her organisation has cases of the same occurring in Lagos.
It will not suit us if we have a section in the constitution that can be misread in the manner in which Senator Sani Yerima argued.
She said that the #ChildNotBride fracas has promoted the need for Nigerians to be much more aware of what is happening in the constitution" as well as what the Senate votes for on behalf of the citizens.
Afolabi also raised the issue of inconsistencies prevalent in the different laws and regulations as regarding age of a majority.
"The immigration code has 16, under criminal code we have between 12 and 17 as the age of majority" also, the Age of Marriage Law, (1990) as drafted by the Senate stipulate the acceptable age for a citizen to marry as 18.
However, this remains a federal law applicable to the Federal Capital Territory.