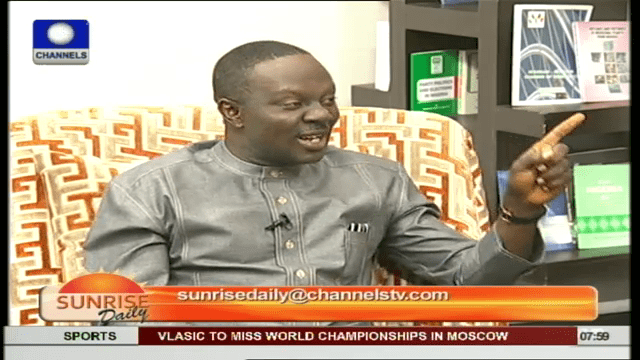 The Special Assistant to Governor Adams Oshiomhole on media and public affairs, Kassim Afegbua has said that the official registration of the All Progressive's Congress (APC) will empower the merger to keep the ruling People's Democratic Party (PDP) on its toes.
He said this while speaking on Channels Television's breakfast programme, Sunrise Daily.
Speaking about the merger and its mission to unseat the ruling PDP, Mr Afegbua responded to comments made by a former member of the PDP Board of Trustees, Ebenezer Babatope,  who described the merger 'a conglomerate of strange bed fellows.'
"What unite them is a common ideology of what they intend to achieve," he said.
He added that the PDP from formation was an amalgamation of all manners of persons, all shades of opinions coming together with the sole purpose of easing out the military from government.
"So it will be wrong of anybody in the PDP to see another party as being made up of strange bed fellows," he said.
He said that Nigerians, for the past 14 years, have been under the PDP rulership, so they have seen the limits, (sharps and bends) of the PDP and so to a large extent they are yearning for an alternative
APC will put PDP on its toes.
"If it is not performing, it will now wake up. If it was performing, the agitations and yearning of most Nigerians would not be there in the first place."
He said a two party system is gradually evolving with PDP and APC as the strongest parties currently dominating the nation's political system.
A two party system will checkmate the excesses of any ruling party.
He also accused the PDP of not following its manifesto to the letter. Former president Olusegun Obasanjo, discarded the manifesto to set up the Presidential Policy Advisory Council headed by former defence minister, TY Danjuma produced another document which jettisoned the original manifesto.
He also said that all ACN turned APC governors are performing better than their PDP counterparts. He added that there are 'available, verifiable' facts to prove this.
The former PDP member said he likes to 'play opposition' because the 'ruling party will not give room to ventilate your opinion'.
While defending the APC for having many 'older generation' leaders, Mr Afegbua said his former position as acting national chairman of the National Democratic Party revealed that "there was no way you can run political parties without having those individuals who have seen it all".
"You must tap experiences from people,' he said.
He called for attitudinal change on the part of the youth.  He said the quality of the mind of the youth is 'something to worry about'.