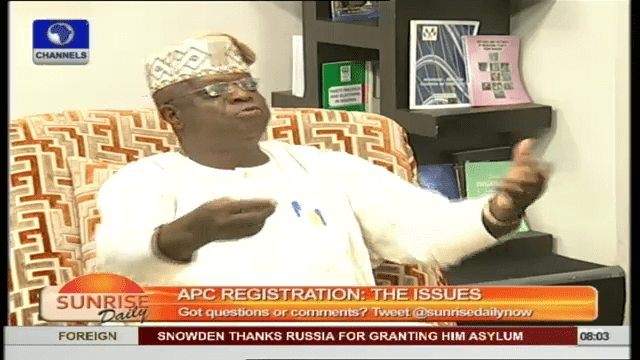 A political scientist, Professor Femi Otubanjo, has compared the APC and PDP to the proverbial devil; and deep blue sea, adding that the newly registered merged party is not different from the ruling party.
In an interview on Channels Television's breakfast programme, Sunrise Daily, Mr Otubanjo said that although the APC is a major threat to the PDP, it is not the 'alternative' it is being touted as.
"The APC is not an alternative," he said, adding that, "it's just a different party".
He said that the term alternative should mean that the party is offering an ideological alternative or programme alternative.
"What is it about the APC that would be different?" he asked.
The APC, he said is made up of the CPC which is "conservative," ANPP, "which has never pretended to be progressive" and ACN which is only "marginally progressive"
I don't see what ACN and other governors do, that PDP governors don't do.
He debunked claims that the PDP was responsible for staging the party bearing the name Africa People's Congress, adding that they are 'speculations'. He added that as a result of the size of the ruling PDP, that initiative may not have come from the top.
"There are so many members of the PDP. Everything does not come from the top. Even if it was, it's legitimate political maneuvering to try to dampen the enthusiasm of the opposition."
The paradigm of politics in Nigeria is different from America. "In Africa we marry democracy with her despotic paternalistic instinct." This explains why we have "leaders who manipulate all the time to be in power and to stay in power".
These people, he said, believe that "once you have power, you must maintain it and use it to oppress."
He said the new party's major challenges would be tension created by appointing officers into the different leadership positions.
This will make some members leave the party in frustration. "Nigerians do not have a losing spirit". They will have the normal party problems which PDP seems to be the only one having.