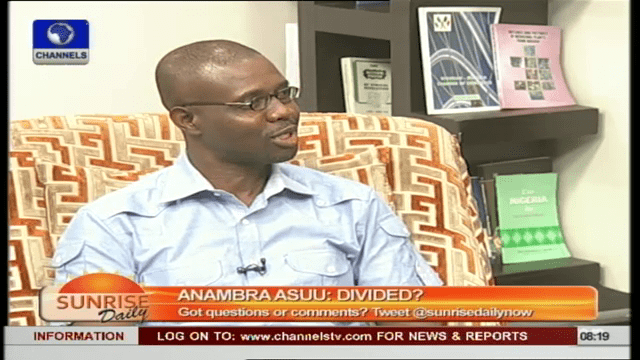 The Chairman, Academic Staff Union of Universities (ASUU), UNIZIK chapter , Professor Ike Odimegwu on Friday confirmed that there's division in the school's union due to the ongoing ASUU strike.
He explained on Channels Television's  breakfast programme, Sunrise Daily,  that there hasn't been a committee like ASUU in the university since 2001 due to an internal agreement that was entered into.
He however revealed that the union was resurrected last year in the university.
He said Profesor Nwabueze, a member of the progressives who has never been a member of the committee contested for a position but thank God he lost.
"Prof Nwabueze has never registered to be part of our committee but he contested for the post of Vice chairman last year, and he lost".
Reacting to the allegation that ASUU dragged the university to court, concerning this issue he said "the senate that runs the university is not properly constituted, non-administrative staff have now being allowed membership of the senate. The senate is the highest policy making body in a university, so they had to take the situation to court and a massive turnout of over 200 members agreed that proper measure has to be taken".
Professor Odimegwu added that prior to the other group saying the students should finish exams before leaving the school premises, the union had met with the SUG leaders and leaders of all departments to explain the reason why examinations cannot continue and the result they hope to achieve with the strike.
Watch complete interview for more.