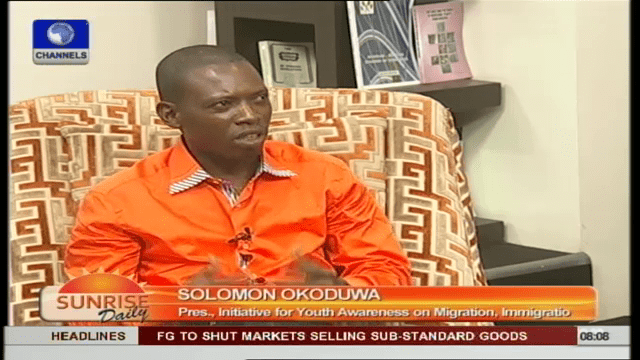 The President of the Initiative for Youth Awareness on Migration, Solomon Okoduwa, on Monday announced the theme for this year's National Youths Day.
Tagged 'Youths and Migration', he said it was inspired by the desperation of Nigerian youths to be successful and to erase the belief that it is only possible for them to succeed outside the country.
He also lamented that  they travel illegally through the Sahara desert to Libya in hope of migrating to Europe.
"This year's theme gives us as a country, the opportunity to reflect on the type of society we live in, a society where so many people see migration as a means to survival, meanwhile the basic things we need access to education and food, we lack them and it has resulted in high crime rate". He said this on Channels Television's morning breakfast programme, Sunrise daily.
He told a story of how he was psyched into believing that the trip was just like Berger- to Oshodi "the people who convince us collected N200,000 for the journey, we were about 300-400 youths and we were not aware of the dangers of the Sahara, meanwhile most of us couldn't tell our family members about it".
Mr Okoduwa said that his organisation has been trying to seek assistance from the government because there are about 122 prisoners in a place called Sabha in Libya, children inclusive.
He said the number keeps increasing because some Nigerian girls give birth in prison and this children automatically become prisoners according to Libyan laws.
He added that to get a good job in Libya you need a residence permit and to get this permit you need recommendation from a citizen which is hard to get adding that there are about 280 Nigerian females in Libyan prisons.
He pleaded with the federal government to come to the aid off Nigerian youths in diaspora by prioritising their interests and organising empowerment programmes for the hungry, unemployed and uneducated youths in our society.