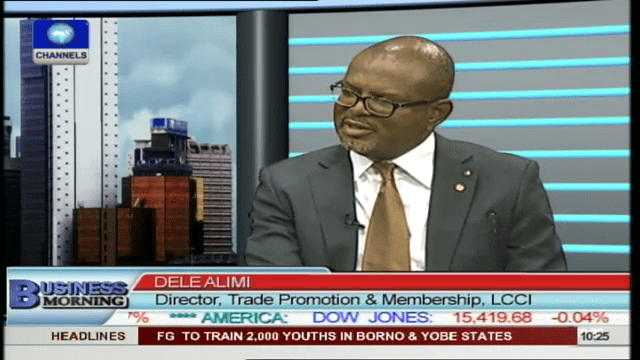 The Director, Trade Promotion and Membership of the Lagos Chamber of Commerce and Industry (LCCI), Mr Dele Limi on Tuesday confirmed the importance of Small and Medium Enterprises (SMEs)  to the socio-economic development of Nigeria but was quick to add that "have not actually done as much as they should".
Speaking during Channels Television's daily business programme, Business Morning, Limi added that the SMEs have not adequately contributed to the development of Nigeria in terms of development, employment, availability and quality of goods.
"They haven't done very well" he said.
He blamed certain "internal problems" such as "management capacity, personal capacity of the investors themselves and the competitiveness of the organisations" for the low impact of the SMEs on the socio-economic development of the country.
Limi also blamed government policies and lack of proper infrastructure but maintained that the internal problems have made the SMEs "unattractive".
He noted that with duplicated staff strength of 10-50, SMEs are the "highest employer of labour" warning that "unless you develop that sector, we are going to have the kind of unemployment problem we have in our country".
He further noted that policies put in place to support the SMEs only exist on paper and not in reality. He listed policies by the Bank of Industry (BOI), Central Bank of Nigeria (CBN) and a policy that mandates all commercial banks to invest 10 per cent of their profit into supporting SMEs as policies that have failed the sector.
Limi, who wondered what has happened over the years despite these policies, also noted that " funds have not been available, the biggest problem that SMEs themselves talk about is access to get it" adding that with the high lending rate we have in this country, you don't see them getting the necessary support".