A former vice president of the Nigeria Bar Association (NBA) Mr. IKeazo Akaraiwe has blamed the "ineffectual" nature of the Nigerian laws as the main cause of corruption in the country.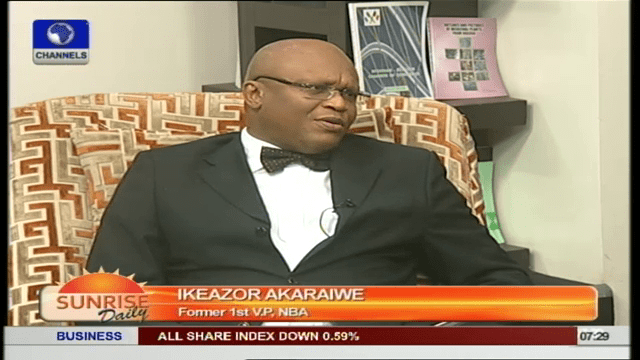 He added that the reason why the country still remains in the battle to fight the scourge is because "there is a culture of impunity majorly because the law is ineffectual''
The entire infrastructure, architecture of justice delivery in Nigeria..the cases take much too long " he said on Channels Television's Sunrise Daily programme on Wednesday.
He advocated for the increase in the number of judges and the quick dispensation of judgment especially in corruption related cases.
He further said "the major thing the NBA can do is to advocate and to engage all level of governance, we have spoken with the Attorney General of the Federation".
He also blamed the executive arm of government of not seeing the link between the rule of law and economic development, claiming that "if they did, they will even be in the driver's seat trying to push for an increase in the appointment of judges".