Enugu Airport Commences International Flight
Nigeria's Aviation sector has recorded another milestone achievement with the commencement of international flight from the Akannu Ibiam International Airport in Enugu State.
T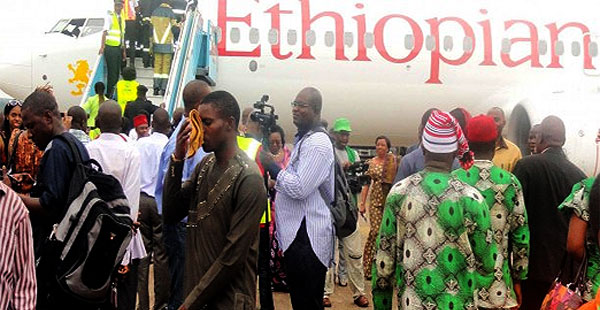 he recent renovation of the fourteen airports across the country is majorly responsible for this feat by Enugu's Akannu Ibiam International Airport marking its first flight to the South East of Nigeria with Ethiopian National Carrier to Nigeria.
The Minister for Aviation in a chat with newsmen described it as dream come true and a fulfilment of one of the President Goodluck Jonathan transformation agenda to the Nigerian people.
As is expected the outbound flight was fully booked with twenty passengers on standby while it arrived Nigeria loaded to capacity.
Nigerian Aviation industry has however increased its streak of successes as the Ethiopian National Carrier left Nigeria and another is expected to commence international flight from the airport shortly.
The Managing Director FAAN said the feat represent a boost to Nigeria's economy and that foreign exchange directed to other nations could now be retained in Nigeria.
The Minister of Aviation described it as an economic booster to the landlocked Enugu state and a fulfillment if the President's dream.
Secretary to the Federal Government, Senator Anyim Pius Anyim described it as a dream come true for the South Eastern states.