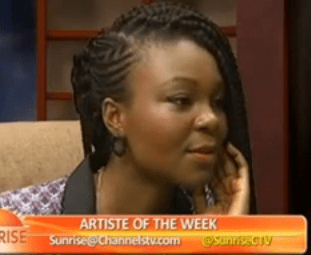 Upcoming artiste, Ebisan has said that there are no gender-based challenges in the music business,contrary to the popular belief that females in the Nigerian music industry face tough times finding a level playing ground with their male counterparts.

The soul artiste said "whatever challenges that has come my way, I can't particularly say it's because I'm a woman. I think a guy would go through some of the things that I have gone through" and stressed that the method of overcoming obstacles is what differentiates people.
"There's always going to be challenges, but I've never really looked at it as it's because I'm a woman. I just think that any career path that you take, there would always be challenges.
However, one's passion, motivation, drive would help artistes overlook obstacles and consider them as vehicles of improvement.
She said this during an interview on Sunrise where she also revealed that her degrees, in Accounting and Finance (B.Sc) as well as International Business Management (M.Sc), have put her in a "better position" because "this is a music business after all."
She added that her experience in a family of music lovers influenced her decision to pursue a career in music. "There was always something fun and creative happening at home".
The singer who was raised in Nigeria, Saudi Arabia and England said music moved from being a passion to a profession at age 16, when she was paid for the first time.