NGF Crisis: Reconciliation Moves Begin As Senate Delegation Visits Amaechi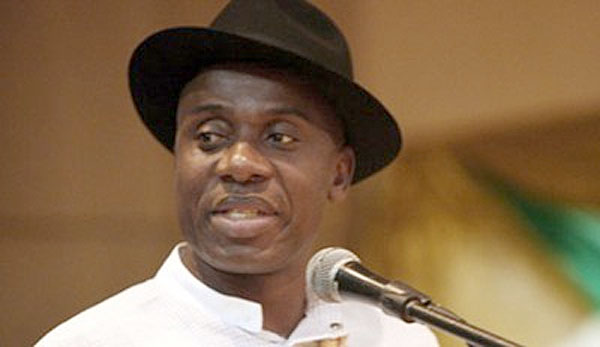 Worried by the current challenges plaguing the country and the crisis in the Nigeria Governors' Forum, Senators' Forum of Nigeria paid the Rivers state governor and Chairman of Nigeria Governors' Forum, Chibuike Rotimi Amaechi, a visit as part of its effort to resolve the crisis.
The Acting Chairman of the Senators' Forum of Nigeria, Senator John .K. Brambaifa who led the delegation on a visit to the  Government house in Port Harcourt said they were "very concerned about the current political developments that is threatening the national polity and peaceful co-existence".
According to him, the Forum in the discharge of its mandate resolved to consult major stakeholders in the country with a view to strengthening and consolidating the nation's democracy.
On the NGF crisis, Senator Brambaifa recalled that the Senators' Forum had already met with Plateau state Governor, Jonah Jang for peaceful resolution of the crisis.
While thanking the senators, Governor Chibuike Amaechi described them as patriots and spoke on the need to uphold democracy in the country where aspirants should simply accept victory or concede defeat, adding that he clearly won the NGF election.
Members of the delegation included Senators Nnamdi Ereobuna, Haruna Zigwaziz, M. T. Ombu (Jnr.), Abubakar Muadi, Ibrahim Mohammed, Ifeanyi Ararume, Sylvanus Ingele and Dogwa Jibril.