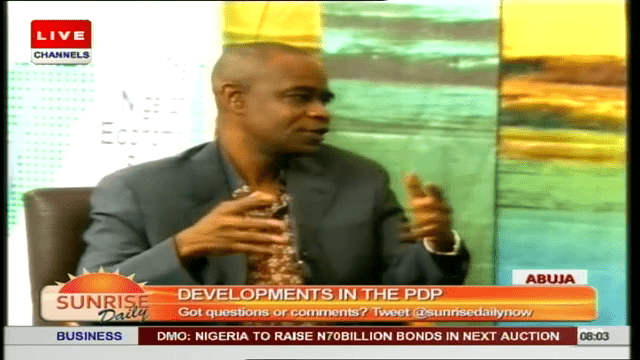 Former Adamawa state governor and a chieftain of the People's Democratic Party (PDP), Mr. Boni Haruna has thrown his weight behind the Bamaga-led arm of the party.
He also supported the decision taken by the party chairman to deal with erring members of the party "As a leader he (Bamanga) has his options and the best option always is what is desired to bring about the resolution of any problem".
He however noted that "in crisis situations like this, it gives room for some form of emotion and am sure maybe at a point he will be in a position to look back and review his position" adding that "you cannot deny somebody his views given the magnitude of issues on ground"
Haruna, while fielding questions during Channels Television's flagship morning programme, Sunrise Daily, debunked the claims that the problem of the party started when Bamanga Tukur assumed the leadership of the party on Wednesday.
He opposed the claim the Adamawa born PDP factional leader is not a bona fide member of the party despite being suspended in 2001, when incidentally; he (Haruna) was the governor of Adamawa state.
Boni, as he is fondly called, said "I know as a fact that Alh. Bamanga Tukur is a founding member of the PDP and I do also know that he has paid his dues in this party" noting that "they were 34 of them who started this party".
"Take note also that there were chairmen of this party that were actually not members of the party at a point. (Vincent) Ogbulafor was not a member of this party; he was in All Nigeria Peoples Party (ANPP) and at a point also, (Okwesilieze) Nwodo had gone to another party and came back. So, all these things didn't start with Bamanga, there are acts of precedence" he added.
The former governor noted that "whether there were some processes that needed to be followed or not, the truth is that Bamanga is a founding member of this party, a financial contributor to this party" adding that "they were those who that stuck their necks at the heat of the Abacha regime to put in a place a group that resisted the military".
Haruna expressed displeasure over the actions of the breakaway arm of the party led by former Acting National Chairman, AbubakarKawu Baraje but admitted that given what politics is, it is nothing unusual to have disagreements to a point that people will have different opinions of the issues on ground.
He went down memory lane to note that the PDP since its formative years did not had it "rosy". He pointed the turn of the millennium as the time things began to change but noted that "it is normal in a plural democracy".