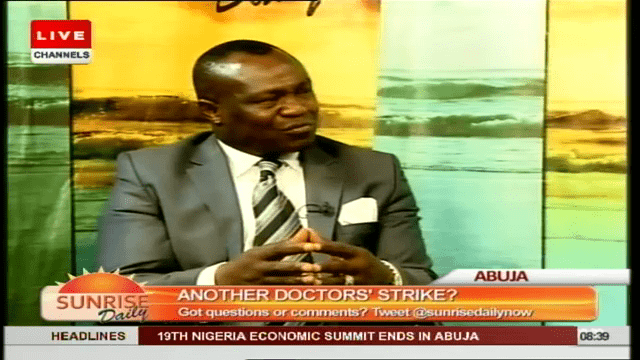 A Public Affairs analyst, Katch Ononoju has called for a holistic review of the health sector.
He also accused the association of double speaking. In his words "first their language was couched as if it was a threat to go on strike but they say no, they don't actually intend to go on strike. What they want to do is put their voice to the discussion" alleging that they asked "the government not to listen out rightly to the voice of the competing union".
Ononuju, who was speaking during Sunrise Daily on Channels Television, noted that the Nigerian Medical Association (NMA) needs to be "more up and doing".
He warned that "it's like we have over laws from the days of dictatorship and the doctors are complaining".
He further acknowledged the existence of other health associations but insisted that NMA "have not made their case properly" stressing that "their cases are disjointed. A lot of the cases don't really make sense"
He commended the introduction of the Integrated Personnel Payroll Information System (IPPIS) claiming that it has saved the federal government "a lot of billions from ghost workers".