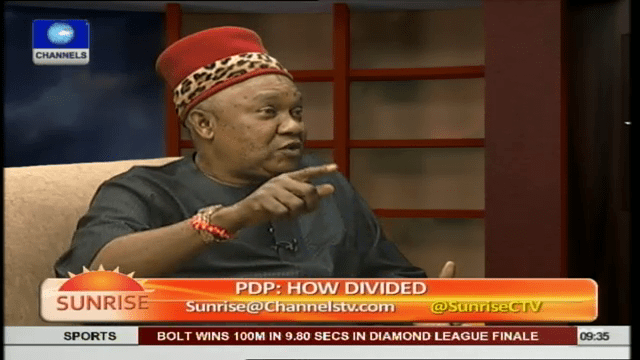 The President General of the Igbo Speaking Community in Lagos, Ebere Ubani has attributed the current crisis rocking the People's Democratic Party to the desperation of Northern elite and governors to produce the next president at the 2015 general elections.
Speaking on Sunrise, he said "I think it's all about the 2015 election, who gets what but basically the north feels it is their right to produce the next president".
He also hinted that the Northern elites have refused to support any other leader since the death of President Musa Yar'Adua, which led to Goodluck Jonathan becoming the new President, adding that "from day one the Northern elites never loved anybody again from the South".
He also explained that the new PDP faction has demanded the removal of Bamanga Tukur because of his loyalty to President Jonathan who has been given approval by different groups to run for a second term.
He alleged that the suspended PDP governor, Rotimi Amaechi is a 'spoiler' who is "working for the governors from the North".
He questioned the reason why Kano state should have 44 local governments and Lagos state 20 even though it is home to millions of Nigerians from different tribes and went further to say that the Northerners are against true federalism because it is not in their favour.
He highlighted major positions manned by Northerners in the country; Vice President, CBN Governor, IGP, Group Managing Director NNPC, Senate President, speaker of the House of Representatives and stated that "the little the government of Jonathan has achieved is based in the Northern part of the country thereby "denying us what we collectively own as a people".
Unconstitutional Demands
However, the former special assistant to the Minister of Works, Patrick Mba has said that the aggrieved faction of the ruling party will definitely come back to the main fold.
Although the Baraje led PDP has demanded the removal of Bamanga Tukur as Chairman and the reinstating of the suspended Rivers Governor, Rotimi Amaechi, Mr Mba said they did not follow due process in airing their opinions.
"What I expected them to do at Eagle Square was to lobby their members and try to pull up numbers that will strengthen their request and then vote him out democratically" because Bamanga Tukur came in via an election, he said.
He also affirmed that there's an internal agitation by some governors who are not in favour of President Goodluck Jonathan running for a second term in 2015.
PDD: Bed Of Strange Fellows
The former Alliance For Democracy Publicity Secretary, Popoola Ajayi, responded by saying that PDP, the off shoot of a group of prominent Nigerians called G34, is now full of 'strange fellows,' and populated by "all manners of characters" including "looters, 419ers, emergency millionaires, people with questionable characters and military apologists".
The "reason for the implosion has nothing to do with the Nigerian people" he said.