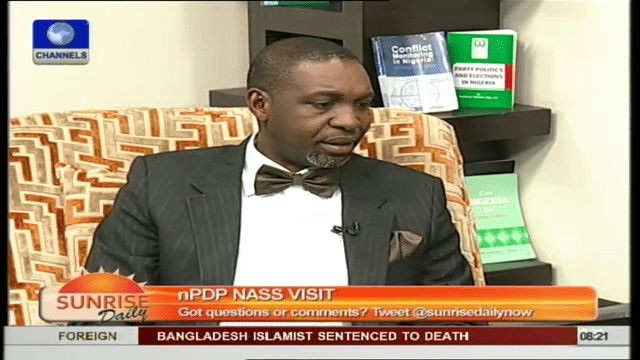 A legal practitioner and public affairs analyst, Malachy Ugwumadu  on Wednesday commended the Senate president for retracing his steps on the need for the constitution of  a national conference.
Ugwumadu said " Senator David Mark is on record to have made very sensitive comments regarding the convocation of a national conference" adding that "this is on the heels of his admission too, that the country as presently constituted, needs state policing".
Ugwumadu, who is also at the forefront of those calling for the convocation of a national conference, noted that "the views they toed in the past are no longer working" saying that "we thank him for that".
He however noted that cynics already believe that "the sovereign national conference has actually started in a different form" saying that "if Boko Haram for instance has as one of its demands, the Islamisation of Nigeria; you will find out that it is in direct contradiction of Section 10 of the constitution.
The Niger Delta, for instance, had issues with resource control and for long no one was listening to them and they had to take up arms. Today we have started hearing amnesty for kidnappers, armed robbers and so on and so forth" he said, insisting that "Nigeria as presently constituted cannot move forward".
He listed the "consolidation of the culture of impunity" as one of the dividends of the People's Democratic Party (PDP) rule in Nigeria noting that "impunity only strives when you do nothing with respect to any transgression and people are emboldened to do more".
He said the "contradictions that led to the emergence of that organisation as a political party are beginning to resolve themselves one after the other"  insisting that "there is an advancement in that style of rascality" citing the fracas that ensued in the National Assembly on Tuesday over the visit of the Baraje-led leadership of the PDP.
He said it is "interesting too that our women have also dramatised capacity in wreaking the same measure of violence'' advising that she should have "engaged in the force of logic".
He likened the situation to "debates all over the world, particularly the intervention of the western world on Syria" insisting that there is no link between what is obtainable in the United Kingdom and United States with what is obtainable in Nigeria.
He said the Baraje-led executives of the party could not have visited the National Assembly to make their case without a "prior invitation" insisting that "I don't think, as a private person, no less a factional leader of the ruling party, can just storm the National Assembly and just take over proceedings  in terms of been granted audience".
He also said legislators should not continue to hide under the cloak of legislative immunity and cause bodily harm to each other.