The President of the Ni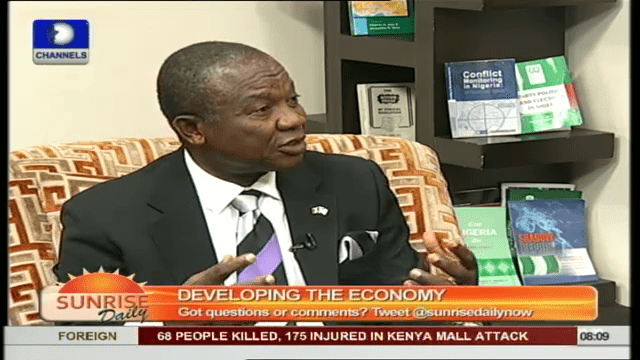 geria-America Chamber of Commerce, Mr Sam Ohuabunwa on Monday called on Nigerians to begin production of local products through collaboration with international companies.
This, according to the former chairman of the Nigerian Economic Summit Group (NESG), will help in boosting the Nigerian economy and creating more jobs in the country.
"You don't have to buy machineries to be a manufacturer" adding that "many companies in the company have excess capacity and therefore, if you are really interested; is it in pharmaceuticals, is it in food production, you can buy some capacity that exists in other companies and just go with your own brand" insisting that you can start with somebody making for you".
He hailed the angle in which Lagos state governor, Babatunde Fashola advocated for the patronage of made in Nigeria goods.
While speaking as a guest on Sunrise daily, the former chairman of the Nigerian Economic Summit Group (NESG) said "the way Babatunde Fashola said it was very unique" noting that "the way he related it to employment and unemployment was very unique".
Sharing his expertise on growing the Nigerian economy, He called on Nigerians to think of providing indigenous alternatives of products that are imported into the country daily.
He berated the Nigerian mentality that tends to look down on products produced locally noting that "it might not be the reality" insisting that "it is just perception".
He also blamed corruption for crippling the growth of the economy in Nigeria. He frowned at the idea of importing goods "just because you think you can make more money".