nPDP's Visit To National Assembly Was Morally Wrong- Legal Practitioner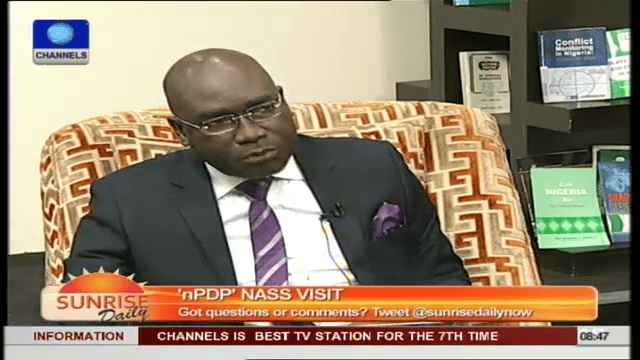 A legal practitioner and public affairs analyst, Mr Ikechukwu Ikeji on Monday berated the Baraje-Led People's Democratic Party (PDP) for visiting the leadership of the assembly saying their visit was "morally wrong".
The lawyer, who noted that new PDP's visit was like taking a family problem to the village square, added that the Senate President had no right to receive the factional party members.
"The Senate President has no right, whatsoever, with due respect to him, to have received the so called new PDP" because "they have no legal entity".
He wondered why the visit was embarked upon as soon as the Assembly resumed sitting after recess noting that "you cannot justify" such a legislative action.
"The constitutional responsibility of the National Assembly is lawmaking and oversight functions" wondering if "you can locate that visit in any of these two?".
He said such visits by institutions that are not under the control of the government should not be allowed, because it will "encourage destabilisation of the polity".
Citing the walk staged by the group during the PDP Special National Convention, Mr Ikeji accused members of the nPDP of undermining "our symbol of sovereignty" noting that "all honour and respect must be accorded to him at all times.
He insisted that the president's office must not be subjugated because of the disaffection of some members of the party the president belongs.