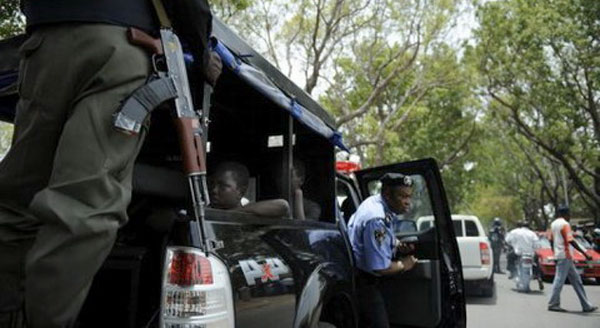 The Abia State Command of the Nigerian Police has arrested a man who specialises in issuing  fake vehicle plate numbers as well as two men in possession of three drums filled with illicit drugs known to be Indian hemp.
Charles Ubani was arrested for printing out fake vehicle number plates bearing the same serial numbers to people.
However, he fell into the hands of the law when he was invited by the men of Federal Road Safety Corp (FRSC) at Umuika in Isialangwa after the vehicle of a man who he issued out fake number plate was impounded.
A 60 year old drug dealer, Ezechi Ikechi Abiri, who had been in the trade for two years was also arrested. The pastor of his church, Tony Ajuma, was also involved in the case as he had kept the illegal substance at his home.
However, before he could remove the drugs from the pastor's house, the police arrested him after a tip off.
Briefing journalists in Umuahia, Commissioner of Police, Tilli Abubakar disclosed that both arrests were made after a tip off. He further solicited for information from the public which would help them in making Abia State crime free.
Tilli warned all criminals to stay clear of the state especially as the ember months approaches hinting that his men are on red alert to deal decisively with any act that is capable of truncating the peace and tranquility in the State.