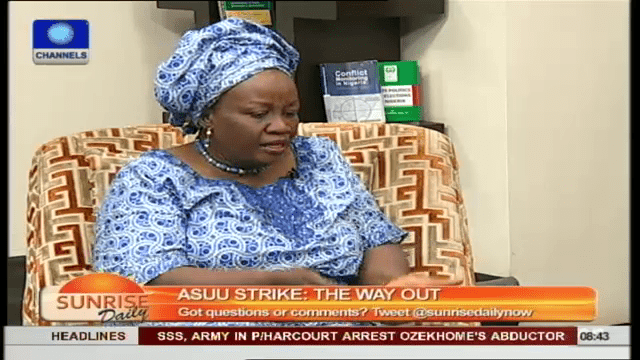 An educationist, Abiola Awosika on Tuesday urged the federal government to dedicate 35 per cent of its budget to education to ensure that the country meets the international educational standard.
Speaking during a programme on Channels Television, the education professor said she had written an academic article in 1992, recommending that 25 per cent of Nigeria's budget be dedicated to education because "we had a shortfall and we needed to catch up with the rest of the world".
"So if the United Nations (UN) is recommending 26 per cent today, we need to be at may be 35 or 36 per cent of our budget going into education" noting that "if we do that, we will be able to move our universities up" she said.
She further advocated for a shift in the mode of learning saying "I keep saying that technology is the way to go. E-learning".
She recounted the visit of former British Prime Minister, Gordon Brown's visit to Nigeria, where he also, according to her, told the National Universities Commission (NUC) and "told them categorically that e-learning is the only way that we are going to be saved in this country".
She however noted that "a lot of our universities are in the fore front of that" listing "Obafemi Awolowo University (Ife), Ahmadu Bello University (Zaria), University of Ibadan (Ibadan)" as universities that "are trying to do something different so that we can get different results".
Despite canvassing for financial autonomy for Nigerian universities, she noted that "we have to also think about the economy that we are in" expressing dismay that Nigerians pay overseas and don't want to pay in Nigeria.
She further noted that over N60 billion is paid to Ghana by Nigerians who go there to study annually.
Professor ABiola Awosika is also the Rector of Olawoyin Awosika School of Innovative Studies (OASIS), Isheri-Lagos.