Recurrent Expenditure Escalated Due To Struggle For 'National Cake' – Etomi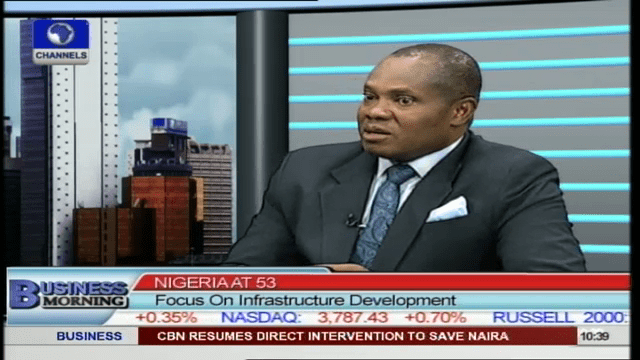 A former Chairman of the Business Law section of the Nigerian Bar Association, George Etomi on Friday explained that the reason the recurrent expenditure has risen far above the capital expenditure is as a result of the hustle to partake of the 'national cake'.
Speaking on Channels Television's Business Morning, Mr Etomi explained that until government reduces its recurrent expenditure, infrastructural development nationwide will continue to be a pipe dream adding that "Nigeria is built on lie" because the indices by which we plan are false.
He averred that statistics of the nation's population and its distribution are most likely not what they are said to be.
"In this struggle for this national cake, everybody is putting pressure on the federal system so recurrent expenditure has grown from less that 50 percent of the total GDP to nearly 80 or 90 percent," he said.
Speaking on the state of infrastructure and development since the nation gained independence; he said "if we are going to make an assessment across board, I think it would be fair to say that we have not reached the level of infrastructural development that we could have reached, given where we started from".
"There was a time actually in this country people had steady supply of electricity and good roads" Although they were not wide and there was no population pressure.
"What any sensible government should do would have been to plan well ahead for population explosion"
The problem now is a lot of these facilities are now overstretched and no sooner do we create new ones, they are instantly over stretched, he added.
In terms of social infrastructure, Mr Etomi said "we've become a much wiser people" adding that "everywhere you go in the world, they will tell you that if there is any set of Negroids who are self-confident, who know what they want, it's Nigerians".
Citing the entertainment industry he said the youths are doing well adding that "in terms of social development, we've done phenomenally well."
Reiterating the opinion that Nigerians do not have a maintenance culture, Mr Etomi attributed the collapse of the nation's infrastructure to a lack of 'forward planning'.
"Forward planning is also not our strength even though we have had several development plans"
He also blamed lack of continuity in government administrations for the break down in infrastructure as new governments fail to continue with what the older government started.