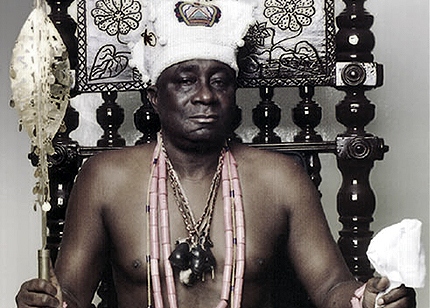 The Oba of Lagos, His Royal Majesty, Oba Riliwanu Babatunde Akiolu 1, turns 70 years on October 29, and he has appealed to all those wishing to place advertorials for him, either in the print or electronic media, to forego such plans saying the current atmosphere in the country does not warrant any form of merriment.
In a statement from the Palace, signed by his media aides, Tokunbo Mumuni-Eshilokun and Kunle Odufuwa, His Royal Majesty advised admirers, including individuals, corporate and multi-national organizations, to direct funds meant for such advertorials to charity and join him in prayers for the peace, stability and unity of the country on that day.
The statement said much as the Oba appreciates such outpouring of goodwill, he would advise the people to cancel the programmes. According to the statement,
"His Royal Majesty has, accordingly appealed to those who have elected to honour him on his 70th Birthday to direct such funds to the Iga Idunganran Primary Health Care Centre and accordingly contact the Medical Director of the Iga Idunganran Primary Health Care Centre in order to obtain the list of needed drugs and equipment for the furnishing of the hospital".
He noted that the Iga Idunganran Primary Health Care Centre "which has since been put into public use", still needs quite a number of equipment to bring it to international standard.
The statement also disclosed that N250 million has been collected so far for the Ilupeju Town Hall and Anikantamo Town Hall and Health Centre projects adding that the amount has since been deposited "in a special project account while the total some required is N650 million".
On the programmes and events lined up by the Royal Palace to celebrate the occasion, the statement said the event would kick off on Saturday, October 26, with the special cleaning of the Palace and its environs which will end on Sunday, October 27.
On Monday, October 29, there would be a Muslim prayer between the hours of 8 a.m. and 10 a.m. in the Palace followed by the installation of the new Iyaloja General of Nigeria, Mrs. Folashade Tinubu-Ojo by His Royal Majesty who would be assisted by members of the Lagos Council of Obas and Chiefs.
The event would be followed by the presentation of the new Olori-Ebi/Overall head of the Bashua Chieftaincy Family in the person of Chief Musiliu Adisa Bashua (SAN).