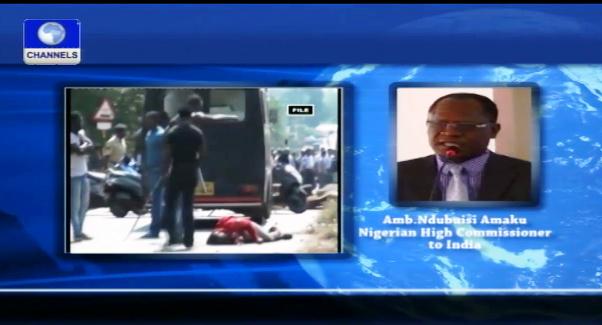 On this episode of Network Africa, the killing of the Nigerian in Goa, India came to the fore.
It will be recalled that a group of Nigerians clashed with the police in India after they allegedly attacked a police vehicle carrying the body of a Nigerian who was said to have been stabbed to death in India's beach state, Goa.
In this phone interview, Nigerian High Commissioner to India, Ambassador Ndubuisi Amaku, shed more light on the issues. He vehemently denied allegations that the Nigerian killed in India was involved in a drug deal.
"This is not correct, the young man has been determined to be a very innocent, I repeat, innocent person… Even at that, if a Nigerian is involved in drugs, the proper punishment is not to hack him to death."
Ambassador Amaku expressed Nigerians' disappointment at the "seeming unwillingness of the local authorities to apprehend the culprit." He promised that the Nigerian High Commission would handle the issue through the appropriate diplomatic channels.