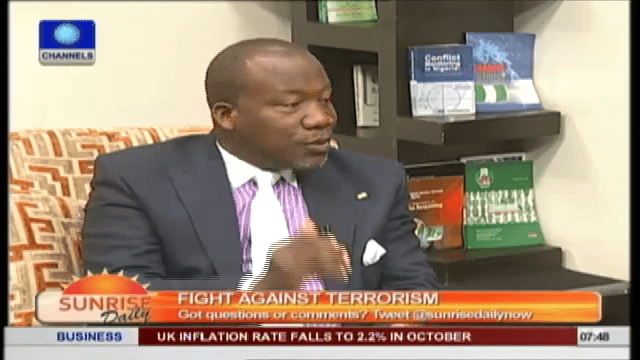 Following a move by United States blacklisting Boko Haram and Ansaru militant groups as foreign terrorist organisations, a Certified Protection Professional, Femi Adegbulu, has warned that this spells bad news for the citizens, especially international travellers.
During an interview on Channels Television's breakfast programme, Sunrise Daily, Adegbulu accused the Federal Government of not being pro-active in dealing with terrorism.
"Our people are not pro-active. I saw this coming a long time ago after the various attempts that Boko Haram had made towards franchising with the main stream Al Qaeda."
"Outright stamping out of terrorist group is what is recommended, not condoning them or calling them to a parley or even dangling amnesty before them," he said.
He also stressed that the demands of the terrorist group cannot be granted by any government and faulted the Federal Government's attempts at inviting the insurgents to a round table for peace talks .
"They want to dismember Nigeria as well as impose an Islamic state," he said.
Speaking about the implications of the two groups being designated as terrorist organisations by the United States of America, Adegulu said Nigerians should be worried because they would be subjected to "dehumanising treatment" when they embark on international trips, especially to the States.
"Once you appear as a Nigerian, they don't know whether you are a sympathiser or belong to the Boko Haram or not."
He also commented on the suspicion that Boko Haram sect may have successfully forged an alliance with other international terrorist groups, adding that, the US may have intelligence on that.
"As at the time I wrote a paper six months ago, there were serious moves by the Boko Haram echelon to get that franchise to be in the mainstream al Qaeda," he said adding that, the U.S may have been privy to information as to "whether they (Boko Haram) have met certain conditions which were set for them by the al Qaeda."
Such information may have prompted the US to declare them terrorist groups, he averred.
He decried the delay on the part of government in prosecuting individuals who have been indicted for their involvement in terrorist activities.
He called on the government to deal with all sympathisers of the groups as they encourage the proliferation of the group.