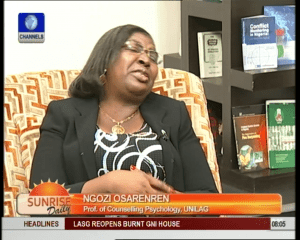 A Professor of Counselling and Psychology at the University of Lagos, Ngozi Osarenren, on Thursday said ASUU's insistence on getting its demands met is not out of a callous desire to keep students away from school as their own children are enrolled in the same schools, and are victims of the strike.
"ASUU members are not barren. They have children staying at home too," she said.
Speaking on Sunrise Daily, she said the struggle for a better education sector is not for the personal gratification of the members and association. She said "no ASUU member is sharing from the money it is demanding.
"It's for the revitalization of the education sector and it's very painful that people who ought to know are shamelessly playing the ostrich, pretending not to know," she said.
The former commissioner for education in Edo state disclosed that the association had sent a letter to the Federal Government on the 22nd of November but until December 5th, there has been no reply.
"How come the government cannot communicate to ASUU since then? The government has not sent any reply to ASUU. We are only hearing this in the media."
She stated that they have been labelled militants and described as subversive but "we are not asking for salary increase. No ASUU member is sharing from the 200 billion naira."
She stressed the fact that no Nigerian university ranks among first 10 in Africa despite the title "Giant of Africa" which the nation lays claim to.
She accused the government of regarding ASUU members as non-serious people who are not to be reckoned with, adding that what they sent to the government was leaked to the press.
Despite the Federal Government's disclosure that it has created an account in the CBN for ASUU, Mrs Osanrenren stated that they have only seen it in the media and that the government is yet to reply ASUU's letter.
Speaking about those who have resumed in UNILAG, she said people who have other reasons may have resumed but insisted that there are no factions in the school.
"The press is making the faction issue in UNILAG to thrive. If you are not on strike, it does not mean that there is a faction," she said.
Asked when ASUU will call off the strike, she said, "once we get official document to show that these things have been done, ASUU will call off the strike."