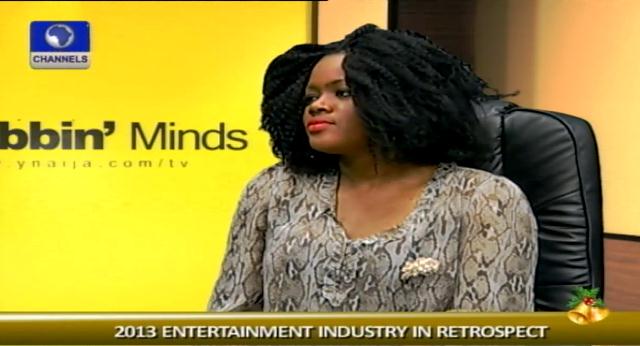 The CEO of Wildflower PR, Omah Areh, has rated the Nigerian entertainment industry to have done very well during the year 2013.
Areh was a guest on the last edition of Rubbin' Minds on Channels Television for the year, where she did a review of happenings during the year.
According to her, Nigerian musicians took their acts to the next level in 2013, considering how many of them had tours in foreign countries, most especially in Europe and North America.
Citing examples like P-Square, Iyanya, Flavour, Davido and many others, she said that the most notable part of this is not that they performed abroad, but that many of their concert tickets sold out, with massive crowds coming to watch them.
She also noted that the industry is now taken more seriously by Corporate Nigeria, as brands are appreciating the fact that there are a lot of things to be part of in the industry.
With telecom companies leading the pack, she commended the involvement of many local businesses in the industry; she said "It was a year of endorsements". Afeez Oyetoro, popularly called Saka and his highly celebrated switch between two giant telecom brands was cited as example of the fact that brands have really taken the industry serious.
She added that at a point it looked like there were no more artistes without an endorsement deal. The artistes are now seen as brands themselves and companies are happy to identify with them as ambassadors.
She noted that the implication of this development is that more of these artistes now have better funds to invest in their careers and this has added to the quality of work being churned out from Nigeria.
"There are also more concerts" according to her, with singer, Dare's 'Love Like A Movie' concert among the most eye catching in 2013.
She also noted that, beautiful actress, Omotola Jalade Ekehinde, being named by TIME Magazine among the world's Top 100 influential people shows how much the entertainment industry grew in 2013.
There were expressions of hope that someday, concerts in Nigeria would be even greater with arenas fully packed with everyone standing.
On the gloomy side, the many deaths of Nigerian entertainers put a dent on Areh's many reasons to celebrate the industry, especially with many of them being young people. Fatai Rolling Dollar, Justus Esiri, Goldie Havie, were among those mentioned with singer, Goldie's drawing a lot of attention becasue she passed on at a time when she was just gaining prominence.
The industry also saw many weddings in 2013 but there were many crashed marriages too according to Areh. However she thinks that is nothing to frown about.
She advised that the art of peeping into people's private lives is catching on in Nigeria because people find it amusing to see the privacy of their celebrities. She therefore expects that more Nigerian stars would take a cue from the likes of American superstar, Beyoncé (who shot a documentary of herself) and embrace the global trend of celebrity reality shows in 2014.