Nigerians Can Now Sue Power Sector Investors – Lawyer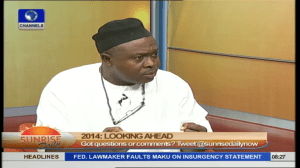 A legal Practitioner, Emmanuel Umoren, on Friday warned the new private investors and owners of Nigeria's power sector of breaching their contract with the people, insisting that consumers now have the power to sue them to court.
"Every transaction is a contract and if there's any breach whatsoever they can be sued," he said.
Mr Umoren who was a guest on Sunrise Daily, commended the government's decision to privatise the power sector, making it a business which is liable to be sued if consumers discover a breach in the contract.
"It is business now. It's no more government money. Let these DISCOs know that (now) we can take them to court. That's a very important part. We can now take them to court because they are business men," he said.
He highlighted some circumstances in which consumers can sue the power companies, including power surge (which leads to damages). On cases of in availability of electricity, Umoren said "it is going to be very difficult to sue them for not providing you light," but added that the position may change as time goes on and with the intellectual improvement in the judiciary system.
On complains of power shortage in some areas, Umoren said "my major problem is that we do not think these things through because you are creating monopolies in areas." He explained that the issue of metering lies with the distribution companies (DISCOs) and added that efforts are being made by investors to check cases of power theft by citizens as such usages are unaccounted for.
He however complained about the unavailability of options for end users leading to monopoly which does not benefit Nigerians. He said there should be options in case consumers are not satisfied with the services of a certain distribution company and added that consumers should be able to switch to any DISCO of choice as such is obtainable in other climes.
On the increase in service charge(s) raised twice within the last year, Umoren questioned the activities of the new investors. "How did we arrive at the first price, if you did not do a thorough analysis of doing the business?" he asked.
On nationwide complains regarding fixed service charge of N750 which may be increased as well as payment of meter maintenance without getting the required maintenance services, Umoren warned the private investors that they are liable to court charges by citizens.
He also faulted the dominance of political cases at the Supreme Court which does not allow for the prominence of other issues, including business, which affect the citizens.
"The decisions that come from the Supreme Court and Appeal Court(s) are mostly political issues because they (politicians) have the money," Umoren said.