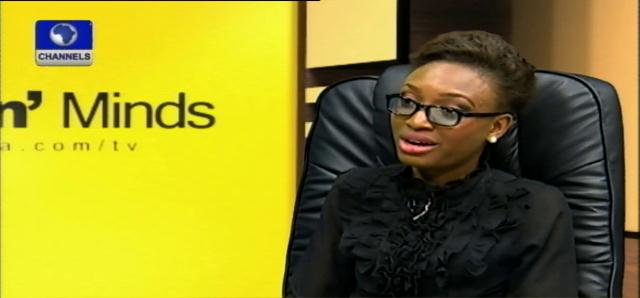 A Sport Analyst, Ochonogor Chimbiani, has cautioned that the pressure put on the Nigerian national football team; Super Eagles for the 2014 World Cup, however justifiable should be positively exploited.
Speaking on Channels Television's Rubbin' Minds on Sunday, Chimbiani gave an insight into her expectations for Nigerian football in the New Year, starting with the country's debut appearance at the African Nations' Championship, CHAN 2014 in January.
She stated that she expects that even as debutants, Nigeria should do well at the tournament, but she would not expect too much from the team. According to her although some key players like Nations Cup hero, Sunday Mba, can no longer feature for the team, Nigeria has enough talents, and coping without the likes of Mba would not be a problem.
She also expressed hope that 2014 would be the year when Nigeria gets its league management right, hoping that "good things will happen in 2014."
Looking ahead to the 2014 World Cup in Brazil, Ochonogor believes that the pressure being put on Super Eagles Coach, Stephen Keshi is right and expected. According to her, the pressure was there when Keshi went to African Nation's Cup and it inspired them to do better.
With Show Host, Ebuka arguing that the World Cup pressure is of a larger magnitude due to the expectations of Nigerians themselves, who want more of the AFCON success, Ochonogor admitted that the Semi-final target set for the team may be too much, but it is analytically realistic, as football is not mathematics and at the tournament anything can happen.
She advised that Keshi should pick the best of the players available to him and also get his preparations right. She encouraged that Africa can do something this time despite the presence of countries like Argentina, Brazil, and Spain who boast of fantastic players.
She also noted that the Nigerian team having no particular star player like Didier Drogba for Ivory Coast is not a problem but rather could be strength. According to her "team work is what is going for us in the Super Eagles".
She added that a situation whereby the home based and foreign based players were willing to work together with a much disciplined Coach Keshi has been the key to the successes so far recorded; a system she expects to continue into the World Cup.
On the situation whereby many of the stand-out players of the African Cup of Nations, AFCON victory are not key players in their clubs, with the likes of Mikel Obi and Victor Moses not playing regularly and Sunday Mba just moving to a new club, Chimbiani said that Ivory Coast because of their major stars were tipped to win the AFCON but Nigeria won it.
She advised that Coach Keshi should open his doors to all players, including the ones he had abandoned like Chinedu Obasi, Osaze Odemwingie and Victor Nsofor to work with his AFCON team in order to pick his best squad.
On the possibility of Odemwingie returning to the team, Chimbiani said "I don't think Keshi will (call him back) but I wish he does".
Asked to give her verdict on Nigeria's chances at the World Cup, she predicted a Quarter-Final finish as the realistic expectation.