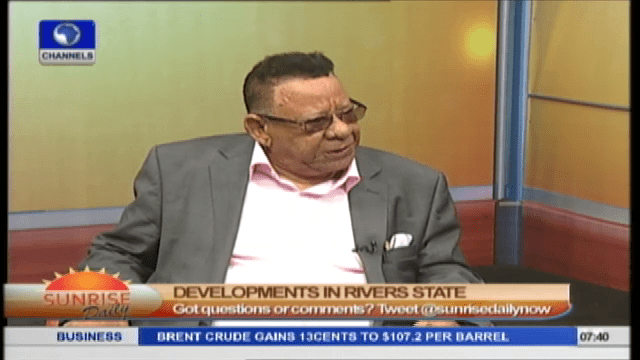 A  Senior Advocate of Nigeria, Robert Clarke today (Tuesday) said that the situation in Rivers state is a frightening development, stating that politics is the life of a nation and a dominant factor in any civilized country.
Mr. Clarke mentioned that politics is an area where money is easily made by young men, so Nigerians need to be careful. He warned, if what happened in Rivers state is not looked into, it might spread to other parts of the country.
Speaking on Channels Television breakfast programme, Sunrise Daily, Mr. Clarke said "if this dominant factor is being threatened in a way or manner that will disrupt the whole existence of the country, then something has to be done.
"No matter how much we are developing economically if there is no political stability that development will be crushed in one night".
He also stated that the bombing in River State is not a new development in the country, "but it happening in a court where a pending case was to be held the following day which has political connotations, that's where we have the problem".
"If nothing is done here, I'm afraid it might spread" he added.
Mr. Clarke explained that there is a particular period for a petition to be heard, in an election state like Rivers,  any candidate that doesn't want a petition to be heard can take a drastic step.