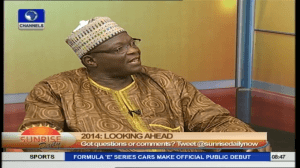 Former Director, Kwara State Public Service, Ibrahim Abdullhahi has laid blame on the Executive arm of government for the poor performance of the 2012 and 2013 budgets, as well as the on-going disagreements over the 2014 budget which was presented in December.
Speaking on Sunrise Daily, Mr Abdullahi who is also a Fellow in the Chartered Institute of Personal Management of Nigeria, said issues of budgeting should be addressed from the angle of the Executive and not the Legislative arm of government.
In his opinion, the President should assent to corrections or changes should be made by the National Assembly for the sake of timely implementation. "In democracy, once the budget is submitted, appraised by the legislature, approved (either below or above what is proposed), it is proper for the executive to assent to it whether having issues on it or not, because of progress, development and objective of the budget itself," he said.
He added that the poor performance of the 2012 and 2013 budgets was due to all the delays which occured as a result of disagreements between the executive and the legislature. He added that the executive is to be blamed because it should have signed the budget.
"Sign the budget and continue to relate with the legislature on the areas of difference for quick implementation of the budget because of the citizens and the effectiveness of performance of the budget," he said.
On the poor performance of the previous budgets, he said "the nation is not particularly happy that budget performance in 2012 was low. The nation is not happy that the performance is low in 2013."
Although the 2012 budget was passed early, performance was pegged at 47% due to issues of implementation while the 2013 budget was passed late and performance was not up to 45%. Abdullahi described this as an "unfortunate development."
In order to avoid a repetition in the future, he advised the President to prepare the 2015 budget before the next election. "I would want the president to ensure that he has a budget to present before the next election. He should ensure that the budget for next year is submitted as early as October this year," he said.
Although several analysts and economists have faulted the 2014 budget which accounts for 60% recurrent expenditure, Abdullahi hinted that it is required as "it is the man and the materials that we use to achieve our objectives."
He added that "we need the men and the materials and that is where the expenses on the recurrent have gone." He however stated that the capital expenditure should be more.
He also appealed to the National Assembly to avoid politicking and consider the budget wholistically for the welfare of Nigerians.