The Chairman House committee on Aids, Loans and Debt Management, Adeyinka Ajayi, has said that the intention of the National Assembly is to ensure that there is good governance in Nigeria, and not the revolution or decrease of  political parties.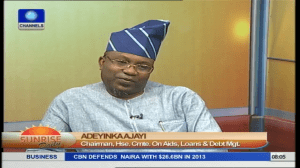 He said that the House is more concentrated on outstanding business such as the 2014 budget, Petroleum Industry Bill (PIB) and constitutional review. "There is a lot of work and we are trying to ensure that we don't get distracted by all the political games,".
Speaking on Channels Television breakfast programme, Sunrise Daily, Mr. Ajayi stated that the leadership of the House is focused on ensuring that there is good governance in 2014 as "the essence of leadership is to lead and Nigerians expect governance at every point in time".
He said there may be times when there is decrease in governance and this happens when elections are close, but the main focus of the House is to ensure  there is governance in the country for it to move forward.
Speaking on the Constitution Review, Mr. Ajayi said that the review is not an "event" but a "process" and so "we are not particular about the time frame but about the substance of what we are doing".
He explained that there is a committee under the National Assembly that is empowered to undertake the process which will lead to the review of the constitution, which he said is ongoing.
Mr. Ajayi affirmed that they have met with the constituents in their various constituencies and have since given report to the committee set up and comprising of members of both Houses (Senate, House of Representatives). "The committee will report to Nigerians through the House for the final step," he added.