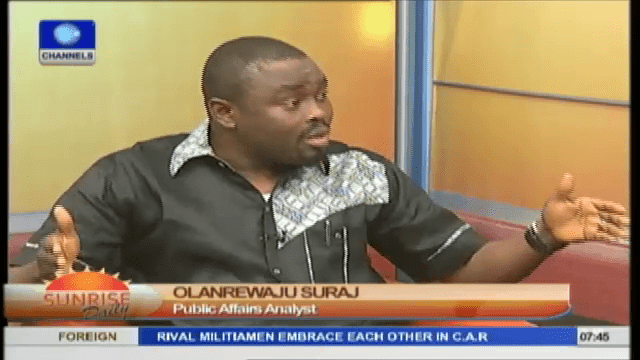 Anti-corruption activist and public affairs analyst, Olanrewaju Suraj on Monday described the disruption of the Save Rivers Movement Rally in Rivers State, as an 'unconstitutional act' encouraged by the Goodluck Jonathan led administration, adding that organisers did not need the permission of the police to hold a peaceful rally.
"There's nowhere in Nigeria where you need to obtain a permit to hold a rally" as "it was the decision of a competent Court of Appeal in Nigeria that the demand for police permit to hold a rally is illegal and a violation of the Constitution," Suraj said, adding that the issue of a permit was a ploy by the Police to hoodwink Nigerians.
Speaking on Channels Television's flagship programme, Sunrise Daily, Mr Suraj stressed that the disruption of the event, ordered by the State Police Commissioner, Joseph Mbu, was against the law as organisers had the right to associate as stated in the Nigerian Constitution.
He also said that the organisers did not need to obtain a permit from the Police before staging the rally as stated by Mr Mbu who claimed that the rally was political in nature.
"It tells us how much the law enforcement agents are either ignorant of the law or consciously violating the laws of the lands in a bid to protect and promote a certain interest within the system at the expense of the country," Mr Suraj said.
A fresh spate of crisis drew nationwide attention on Sunday when men of the Rivers State Police Command at about 5.30am on Sunday, stormed the Rivers State College of Arts and Science in Rumuola, venue of the proposed Save Rivers Movement (Rally) scheduled to hold at 1 PM.
The Police Commissioner, Joseph Mbu, had also been labelled partisan by critics who claimed he was working against the Governor Chibuike Amaechi administration, as a result of his allegiance to the President and First Lady of the country.
Several citizens including Senator Magnus Abe sustained different degrees of injuries during the raid.
In reaction to this, Mr Suraj warned that the "disintegration of this country is likely to start from Rivers State and not the Boko Haram."