Rivers State Commissioner of Police Should Be Sued – Legal Practitioner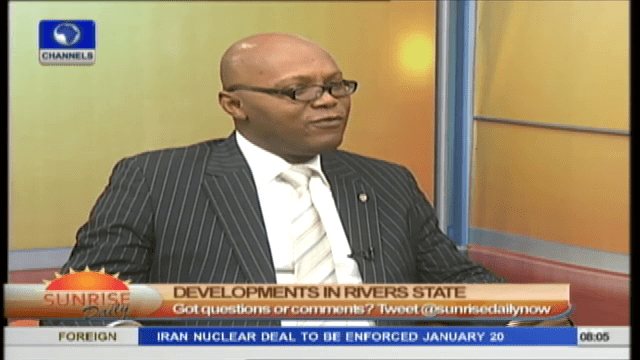 A Legal Practitioner, Emeka Onohwakpor, has advised members of the Save Rivers Movement who had their rally disorganised following a police raid, to sue the Rivers State Commissioner of Police, Joseph Mbu, for ordering the attack.
According to him, the Police Force as well as the Rivers State Commissioner of Police himself can be sued for disrupting the Save Rivers Movement Rally, an act which analysts said was 'unconstitutional.'
Mr Mbu had told Channels Television that the organisers of the rally failed to obtain permission from him before going ahead with their rally which he claimed was political.
However, Onohwakpor said that Mr Mbu's actions were against the law and "If it's outside his purview as a Police man, sue him in his name." The Police Commissioner's reason for ordering the raid was wrong and he was acting beyond his purview. "I watched the Commissioner of Police arrogating to himself powers he doesn't have."
He further stated that the "Constitution as well as the Police Act did not envisage that powers to grant permission to persons interested in conducting rallies would be granted to the Police" because there are forms for different activities involving the Police including application for bail or exhibits but "the Police has no form for permission for rally."
"It's not something that was envisaged to be part of their jobs," he added.
Speaking further on Channels Television's breakfast programme, 'Sunrise Daily', he disclosed that there are several cases in court against the Force, as well as the Inspector-General of Police, Mohammed Abubakar, and that judgment had been pronounced on some of the cases.
The disruption of the rally was an 'unnecessary reaction from the Police because people have a right to gather and as long as they have not started constituting themselves in a breach of public peace, they should not have been attacked."
He added that the action of the Rivers State Police Command, led by Joseph Mbu, whose integrity has been questioned by critics and analysts, attempted to label the organisers and the rally a 'threat' even though the right to assemble is an 'overflogged fact'.
He maintained that the participants of the rally should not have been attacked with the use of teargas and rubber bullets but should have been advised to disperse on the condition that the rally had become volatile.
According to Mr Onohwakpor, the only reasonable solution to the problem is the court, because "If you don't take these people to court, they will use self-help and you cannot even match them. Your last bet is to go to court."
He also wondered why the affected individuals are yet to proceed on a legal battle. "Why the people of Rivers State are afraid of going to court, I don't know," he said.