World leaders at the World Economic Forum holding in Davos, Switzerland have stressed the need for the whole world to tackle Climate Change and set new goals for ending extreme poverty globally.
At Friday's debate on 'Changing the Climate For Growth and Development', the UN Secretary-General, Ban Ki-moon, said that Climate Change was putting the whole world at risk, emphasising a greater need for more efforts to be made towards reducing the effects.
"Our communities, small or large and even our national security, political instability have been caused by the impact of climate change," he said.
The UN leader dismissed some perceptions that tackling climate change would affect or reduce the world's capacity to address global growth, Millennium Development Goals (MDGs) and future developments, saying that "it is a wrong belief".
Sustainable Development Growth
"We have to tackle this climate change. Tackling climate change will put all of us onto a sustainable development growth.
"Addressing all of our lives' activities in a sustainable way will help us in tackling climate change. Therefore, these two issues are mutually re-enforcing and mutually supporting, Mr Ban Ki-moon said.
He pointed out that tackling the challenges posed by climate change would enable the entire world have a universal access to energy.
"It will help to strengthen our capacity to resilient infrastructure, global health, sustainable urban transportation and bio-diversities," Mr ban Ki-moon said.
He also said that short-lived pollutants would be addressed.
The UN leader called for a very strong and tight partnership among government, communities and civil societies.
Nigeria's Minister of Finance, who was one of the discussants, stressed the need for the whole world to start greening the way things were done.
"If we fail to get a grip now on solutions to deal with climate change and start greening the way we look at everything we do, I think this will cause a problem. The financing and the enabling is key.
"We need to move to solutions.
"In 2012 we experienced unexpected flood in Nigeria. A million house holds were affected. Road infrastructure and investments made in the housing and health sectors were wiped out.
In Africa, we have moved a step further towards tackling these challenges and I think that what we need now is solution.
"We have the African Risk Capacity, which is a weather based insurance mechanism.
"The insurance payment kicks in within three weeks of any disaster," she explained.
On the need to tackle extreme poverty globally, Dr Okonjo-Iweala suggested that the world should "look at the path of investment; that is the path of the private sector and what we can do with private sector solutions."
She stressed the need for funding, saying "there is very little investment really in trying to support the systems".
Reducing Carbon Intensity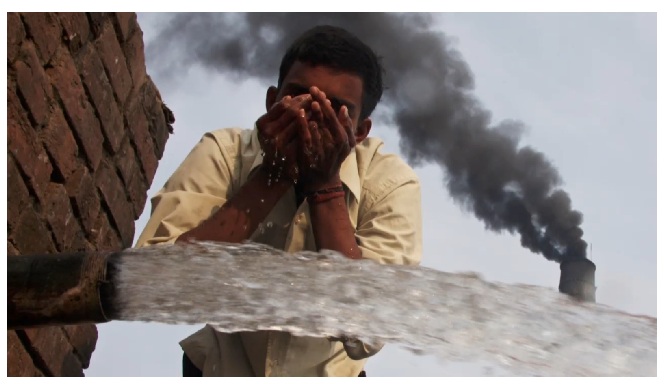 The president of the World Bank, Jim Yong Kim, also pointed out that there were many things needed to be done.
He called for a target to be set for September at the UN General Assembly.
"There are so many things we know we can do right now.
"Why wouldn't we be able to increase, for example, green burn from the 10 billion dollars current level to 20 billion? Why don't we set a target of how much carbon that we can take out of the world in a year? That is a practically reasonable goal to set. Something that is very positive and very good," he said.
In its contribution in tackling climate change, the World Bank would look at all projects to identify ways of reorganising how things are done to ensure that they are environment friendly with little or no impact on the climate.
"We have to make sure that we do not pull defeat out of the jaws of victory by losing sight of things like the MDGs. They are good goals and they will continue to remain good goals.
"We have to step back and look at the good things that we can do right now to reduce the carbon intensity," the World  Bank boss suggested.
Sustaining Developments In Africa
A former vice president of the United States, Al Gore, stressed the need to focus on sustaining developments in Africa by tackling climate change.
"Africa is projected to have more people than China and India combined by the end of the century and this lays emphasis on the need to tackle climate change in Africa," he pointed out.
Another discussant, Bill Gates, founder of Bill & Melinda Gates Foundation, stressed the need for countries to focus more on reducing extreme poverty while reviewing the MDGs.
He also emphasised the need for an improved health delivery in different countries, as a means of checking the increasing world population.
"If you get health improved, families will embrace the need to reduce the number of children they will have," he said.
Other persons at the debate were Paul Polman, Mishal Husain and Erna Solberg.
An unprecedented international effort will be made in September during the UN General Assembly to energise leaders to successfully negotiate a climate change agreement and set new goals for ending extreme poverty globally.
The Climate Change Summit meeting at the UN on September 23 will focus only on climate change, the UN Secretary General has said.
Mr Ban Ki-moon urged all government leaders, philanthropists, community leaders and investors in carbon intensive technologies that would be attending the meeting to bring their own commitment.
"Political leaders should come to the meeting with a very decisive, determined, passionate and visionary leadership for the future of our generation and the future of a sustainable planet earth," he said.
Channels Television's correspondent covering the World Economic Forum, Harriet Agbenyi, says a lot of focus is on Africa and the development of the continent.
"Listening to Dr. Okonjo-Iweala, it seems Nigeria has a game plan, but Nigerians will have to wait and see how these turns out," Harriet said.