N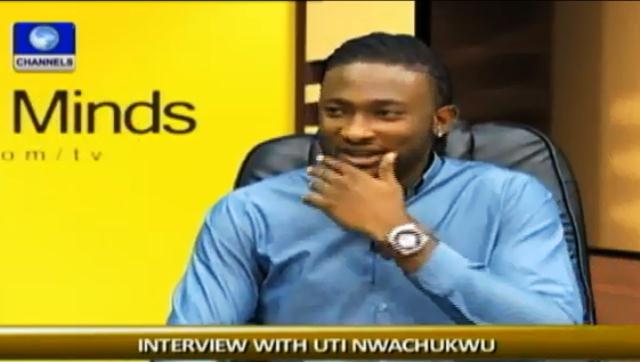 igerian actor and a model, Uti Nwachukwu, has said that his latest incursion into the Nigerian music scene is in fulfillment of his passion for his first love, rather than the quest for money.
The winner of the Big Brother Africa reality show was a guest on Rubbin' Minds on Channels Television on Sunday, where he spoke about some of his recent activities.
The man, who started his career as a model before hitting fame on the pan-African reality show has since delved into other areas of the entertainment business, after riding on his claim to fame to make a great career as a TV show host.
Having also enjoyed good reviews from his performances in a number of Nollywood movies, in 2013, he released a single, launching his career as a recording artiste to the surprise of many Nigerians.
Although he refused to rate himself as a musician, Uti noted that he grew up with his multiple talents, and has enjoyed the new experience because of the reaction it drew from many fans, as they were mostly shocked that he could sing.
The latest single was not his first attempt at singing and he admitted that much, adding that the previous two singles were not serious attempts; moreover, he had never been famous for his first attempts, as he reminded Ebuka that it also took him three attempts to win Big Brother Africa.
Asked to identify his weakest competence among the many known talents, Uti simply said there was none. "TV presenting is the easiest for me and acting is the most stressful."
Uti also had some harsh words for the critics who have tagged him as fame conscious. He noted that he had no reason to allow anonymous comments affect him. He said: "My skill is to serve serious minded people, or in lay-man's terms – people that have sense. I don't work because I want to entertain daft or dull people.
"You have to be extremely mentally challenged to take an anonymous comment seriously. Serious people would actually come to you and I have not met any serious person that has abused me to say 'why are you everywhere'?"
Uti also seized the opportunity to clarify the state of the relationship between him and his friend Alex Ekubo. He explained that the relationship was part of his passion for giving back to the society as they went everywhere together so he could help give Alex the exposure his talents deserved.
There had been rumours about the hidden motive of their relationship and he wondered why "many Nigerians" would complain that celebrities were not using their status to help others; and when they do, there would also be suspicion about them being involved in amorous relationships.
"In Nigeria, a lot of people feel that you cannot give someone so much without getting something back in return; which is most likely sex," he said.
He referred to the speculations as "very ridiculous. "But it didn't affect the relationship. We would sit back and laugh because me I know my friend, I know say him like woman well well, and he knows me as a very disciplined man but I like women."
Uti refused to reveal his plans for 2014, but he assured his fans that a lot would be happening during the year.
Of course, Ebuka would not let him leave the studio without touching on his love life and the lady or ladies he has been linked with. That brought quite some revelation.
Enjoy the interview.