PDP Lawmaker Accuses APC Of Deliberately Delaying Passage of 2014 Budget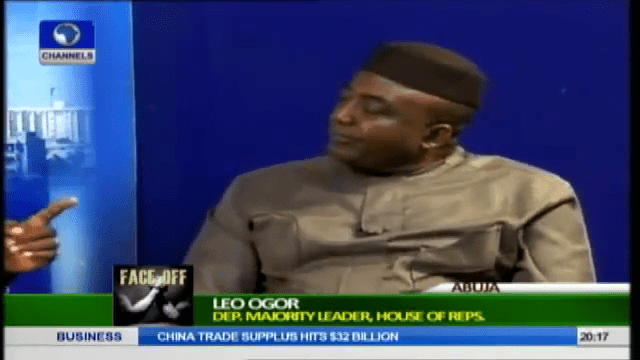 Deputy Majority Leader of the House of Representatives, Rep. Leo Ogor today hinted that there are moves by the opposition to stifle the passage of the 2014 Budget.
"I think there is that attempt recently and you realise that it affected the position of the budget for about three or four days" adding that "a position was also taken" because "we run the house in line with precedents and nobody has actually asked for these documents" he said while speaking as a guest on Channels Television's programme, Face Off in Abuja.
However in a swift reaction, the Minority Leader in the House, Rep. Femi Gbajabiamila refuted the claim, alleging that "left to the People's Democratic Party (PDP) the budget should be passed in one or two days".
He argued "a month should not be too much" to debate on "a budget for 170 million people" insisting that "that is what we are doing now".
Rep. Gbajabiamila challenged Rep. Ogor to explain how the budget intends to affect the life of the ordinary Nigerian. Responding, Rep. Ogor began by quoting Section 81 of the constitution, admitting that the document sent by the president has some flaws, he however noted that it is their duty as lawmakers to give Nigerians the budget that will benefit the general populace of the country.