Delta Commissioner Speaks on Achievements in Health Sector
The Commissioner of Health in Delta State, Joseph Otumara says that the state in collaboration with the Federal Ministry of Health is working on the reduction of mortality (death) by providing quality, qualitative, accessible and affordable health care to indigenes of the state.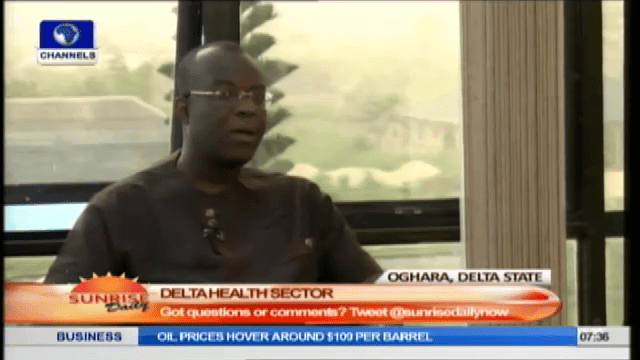 He stated that in Delta state" there is about 540 primary and comprehensive health care centres, with a region of 5km there is a health care centre which is equipped to standard, provided by the government of the state while the local government council run the health centres", he added.
The commissioner pointed out some of the issues that are affecting health care services such as lack of nurses and doctors in some rural areas, drugs amongst others. He also noted that there are 65 general hospitals across the state, as the government has ensured that in every local government area there must be a general hospital.
Speaking on Channels Television's breakfast programme,Sunrise Daily, live from Oghara, Delta state, Dr. Otumara revealed that out of these general hospitals about six of them are specialist hospitals in Warri, Agbor, Kwale, Asaba, Sapele, stating that these hospitals are rebuilt, restructured and equipped.
He mentioned that the state now specializes in certain areas such as orthopaedic, kidney transplant, and some other surgeries which have brought referrals to the state.
He also emphasized the need for children to be immunized especially in the primary health care which he said cannot be avoided and added that the state distributed insecticide treated nets to the people  to help curb malaria in the state and also provided clean water to prevent cholera.
Maternal Mortality
Speaking on the reduction of maternal mortality, Dr. Otumara explained that death in childbirth has reduced to about 241 from 1000 deliveries in the state and that 2013 which is yet to be known will be lower.
He stated that children between the ages 1-5 are  entitled to free medications and same applies to them during delivery and attributed more success to the maternal mortality than child mortality.