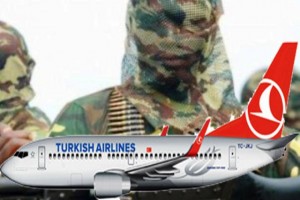 Turkish Airlines have denied carrying weapons and military equipment to Nigeria after a Twitter account behind a string of leaks in a Turkish corruption scandal released a voice recording suggesting it had done so.
The recording, whose authenticity has not been verified, is purportedly of a conversation between a senior Turkish Airlines employee and one of the advisers of Turkish Prime Minister, Tayyip Erdogan.
Part of the voice recording of an alleged Turkish Airlines official, goes, "Lots of material is on its way to Nigeria right now. Is it going to kill Muslims or Christians? I am sinning right now, you should know."
The airline said in an e-mailed statement that it only carried weapons and military equipment in line with international law and International Air Transport Association (IATA) regulations and that no weapons were carried to Nigeria.