Nigeria Army Deploys 700 Soldiers To Liberia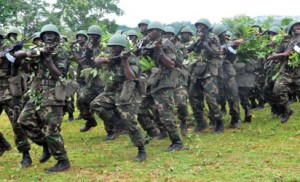 The Nigerian Army today  deployed another batch of 700 Officers and soldiers to Liberia on a Peace Keeping Mission. The  troops which  include 42 Officers and 658 soldiers  are expected to depart Nigeria for Liberia tomorrow.
Addressing the contingent during their graduation ceremony from the Nigerian Army Peacekeeping Centre, Jaji North West Nigeria, ahead of their departure tomorrow,  the General Officer Commanding (GOC), 81 Division of the Nigerian Army, Major General Tamunomieibi Dibi warned that the Nigerian Army will not accept any situation where its troops are seen as a soft target due to carelessness or cowardice.
The GOC who was represented by Brigadier-General Abubakar Maikobi said, the Rules of Engagement in the mission has been given to the troops for them  to exhibit braveness, adhere to the rule of engagement as  professionals and to also respect the cultural sensitivity  of the people of Liberia.
He also reminded them of the United Nation's zero tolerance on drug trafficking.
Earlier in his welcome address, the Commandant of Nigerian Army Peacekeeping Centre, Major General Sanusi Muazu said the troops had benefited from the mission's special training which will enable them operate under general and unique conditions obtainable in Liberia.