IPAC Faults Composition Of Delegates At National Conference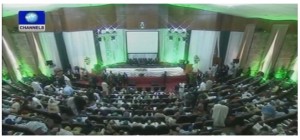 The Inter-Party Advisory Council of Nigeria (IPAC) has expressed its disappointment with the composition of the ongoing National Conference taking place in Abuja.
At a meeting in Abuja on Friday, the council said the situation where only five political parties were at the conference out of the 25 registered parties in the country 'turned main actors to mere spectators'.
The chairman of IPAC, Yunusa Tanko, also told reporters that the inclusion of men and women above 70 years to be part of the conference may make the conference end up not achieving the purpose it was set up for.
"The inclusion of men and women above 70 years, with analogue qualification, can never succeed in mapping out the future of Nigeria and Nigerians. That is why the National Conference has become a 'National Sleeping Conference' as we can see.
"It is another waste of public funds by recycling the same people that have kept us where we are at the moment.
"These are very trying times and the conference will be meaningful when youthful representation, people within the age bracket that can represent the interest of the future of the country and the political parties which are the key drivers of this particular process are well represented. Twenty out of the 25 parties are being alienated from the conference.
"What will happen when a party not include in the conference wins an election, it can push the decision of the conference aside because it was not a party to it when it was reached," he said
The modalities of the conference specified that only political parties with representation at the National Assembly would be allowed to send delegates to the National Conference.
Prior to the death of a delegate to the conference, Mr Mohammed Misau, 492 persons were meant to be in attendance, representing different regions, professional groups, ethnic groups, youth and religious groups amongst others.
They have been asked to put ethnicity aside and fashion out ways of moving the country forward.
IPAC's statement is the latest that has kicked against the age range of delegates at the conference, which have low youth representation.