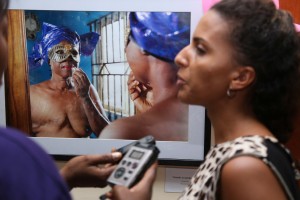 Renowned photographer, Yetunde Babaeko and X-perspective, a group of female photographers launched a first of a kind photo exhibition to the delight of guests who converged on Goethe Institute, Onikan on the March 8, 2014 to create awareness for breast cancer.
The exhibition drew guests ranging from photographers to art and health enthusiasts and the general public. The event commenced with a one-minute silence for Pa J.D Okhai Ojekere a legendary photographer who was buried on the same day. Yetunde Babaeko opened the event with a speech on her idea behind X-perspective initiative and the exhibition.
Mrs. Clementina Ometu, a representative of Sebeccly Cancer Care educated guests on breast cancer and the importance of early detection, which can help reduce the outbreak in the country. This will enlighten the members of the public and potentially reduce stigma in the society.
Photos showcased were taken by a group of independent female photographers, known as X-perspective led by Yetunde Babaeko, who are driven by the collective goal of "making a lasting impact through the lens of a camera". Photos from six photographers were showcased, each of them telling a unique story about different cancer survivors.
"This exhibition is really close to my heart because it affects women and their families. These women go through a lot emotionally, financially and physically and the hospitals lack adequate medical equipment and personnel that are needed to cater to these women. My major goal is to create awareness and advocacy for early detection that will reduce the number of patients in the long run. Another goal for me is raising funds for the survivors and patients that are needed to make available the necessary equipment and medications required", Yetunde Babaeko speaks passionately about breast cancer at the exhibition.
"I attended a workshop organised by Sebeccly Cancer Care and there was a woman who could not afford treatment for the illness. I said to myself what could I do because I didn't have money nor did I have wealthy friends? That's where the initiative 1K4Cancer was birthed that had a main goal of soliciting for funds for cancer care and treatment", Wana Udobang speaks about her initiative at the exhibition.
"It was emotional and heartbreaking to hear the survivors' story. We did not fully understand the gravity of the stories they told until we started seeing and taking pictures. I joined the initiative because I felt touched by their stories, how most of them had to sell all they had just to pay for treatment and it still was not enough to cover all the treatment", Yemi Disu a member X-perspective said.