National Conference Delegates Call For United Nigeria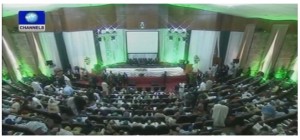 The need for a new mind set and approach to ensure that the task of creating a new Nigeria is accomplished has been emphasised by delegates at the ongoing National Conference in Nigeria.
Continuing discussions on Wednesday on the inauguration speech of President Goodluck Jonathan, delegates stressed the need to set aside ethnicity and personal interest in line with the demand of the president in the  speech. 
Even though the discussion may take a few days, the delegates say it is a key part of the conference.
Channels Television's correspondent, Lanre Lasisi reports that the day's plenary session had just one item on the order paper, the continuation of the debate on the president's inauguration speech.
"The delegates were given three minutes to speak on the speech in alphabetical order and they focused on different aspects of the speech," Lasisi said. 
The discussion went smoothly with just a slight incidence and delegates, which were once divided over the rule that would guide decision making, expressed satisfaction with the progress made.
They also said that the discussion on the speech of the president, which would continue on Wednesday, was vital.
It is not clear when this debate will be completed as a lot of delegates are yet to speak.
But having started from the first delegate, they must hear from the very last delegate.