O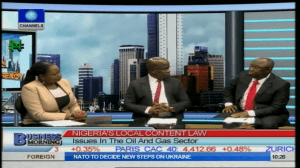 il and Gas Expert, Ademola Adedoyin, has said that in the last 4 years, Nigeria's oil and gas sector has recorded over $5billion investments.
Speaking on Channels Television, Business Morning, he noted that as a result of Nigeria's participation in procurements and creation of over 38,000 jobs in the industry, "Nigeria's economy is deepened with these activities."
Mr. Adedoyin, however, faulted the issues of manufacturing in the sector, as it brings low turnout. He called on the Federal Government to look into the issue of manufacturing to enable the materials used in the oil industry to be manufactured in the country.
Another Oil and Gas Expert, Zik Zulu Okafor, also on the programme, said that in the last 4years, Nigeria has lost a capital flight of about $380b, stating that Nigeria's content was a courageous attempt by the Federal Government to tackle and address these abnormality.
Mr. Okafor said that in terms of job creation, jobs retained in the country has brought about $287b, $167b worth of procurement have been brought in the country, $20b on engineering jobs and $7b on research and development, adding that if not for Nigeria's Local Content Law in the Oil and Gas sector, these jobs would have been taken outside.
He further commended the efforts of the government and advised that a lot still needs to be done in the industry.