Illegal Importation: Customs Seizes 15,485 Bags Of Rice In One Year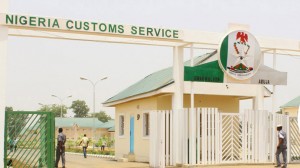 A total of 15,485 bags of 50kg rice with a duty paid value of approximately 173million Naira have been seized by the Oyo /Osun Area Command of Customs in the past one year as a result of intensified heat on illegal importation of rice into the 2 states.
Making this disclosure in Ibadan, the Oyo State capital, Oyo/Osun Area Comptroller of Customs, Richard Oteri, several unscrupulous Nigerians have resolved to make smuggling their tasks in life despite its attendant risks to the lives of individuals and the economy of the country at large.
Oteri added that the command was poised to make the business as unprofitable as possible for those who refuse to heed repeated government warning on smuggling.
The latest seizure of the command included 9 buses fully loaded with 481 bags of 50kg rice, fairly used cars, fabrics, and among other items.
Seizures and offloading of carefully concealed rice has become a common scene at the headquarters of Oyo/Osun Area Command of the Customs in Ibadan the Oyo State capital. Between March 2013 and March 2014 alone, almost 16,000 bags of 50kg rice have been intercepted, with the duty paid value put at about 173 million Naira.
Oteri disclosed that the smugglers get more crafty by the day, concealing rice with items like charcoal, yam flour, saw dust, yams, cassava waste and other dairy products.
He added that the Comptroller-General of Customs remains resolute in his commitment to fully implement the rice import policy and warned Nigerians who patronise neighbouring African ports instead of the nation's sea sorts for smuggling purposes to desist from the act or lose their investment.