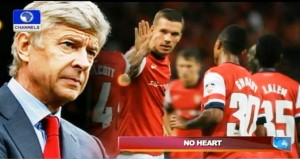 On 'Sports This Morning', we take a trip to England for a review of the Premier League, where Arsene Wenger is walking on a tight rope in his fight for the Champions League spot after an embarrassing defeat at Everton.
The last time Liverpool had 74 points after 33 matches, they ended up winning the league in England. That was in the 1987/1988 season and in the 1978/79 season, and we look at their chances of repeating history in the 2013/14 season.
Also on the programme, Uche Chukwumerijke wins a gold medal at the 25th Taekwondo Beijing Open, while the Nigerian Flying Eagles are in Morocco for back to back friendlies as they continue preparations for the 2015 African Youth Championship Qualifiers in May.
Some Formula One action also on the line up as Louis Hamilton continues to dominate the season with another win in Bahrain.