Missing Plane MH370: Australian Prime Minister Confident Over Signals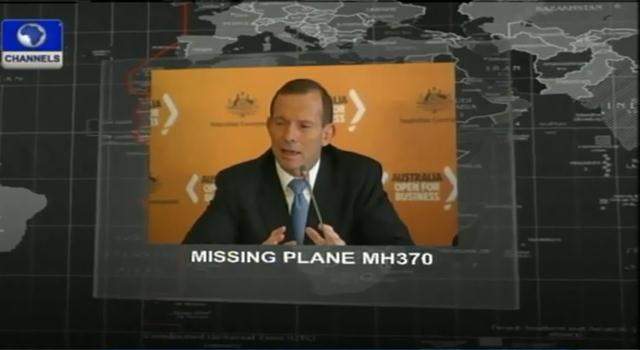 The search for the missing Malaysian plane is still on and Australian leader, Tony Abbott has said that authorities were confident that signals heard in the Indian Ocean were coming from the "black box" flight recorders of the missing aircraft.
Speaking in China, he said teams had "very much narrowed" the search area.
On Friday, as many as 15 aircraft and 13 ships were involved in the search operation in a remote area of the southern Indian Ocean, where officials believe flight MH370 crashed.
As planes combed a large search zone, thousands of kilometres West of Australia, for possible floating debris, ships were focusing on a smaller area where signals have been picked up consistent with the jet's flight recorders.
Prime Minister, Tony Abbott said that teams were confident the signals were from the black boxes.
"We have very much narrowed down the search area and we are very confident that the signals that we are detecting are from the black box on MH370."
"We are confident that we know the position of the black box flight recorder to within some kilometres. But confidence in the approximate position of the black box is not the same as recovering wreckage from almost four and a half kilometres beneath the sea or finally determining all that happened on the flight."
Ships continued to listen for acoustic signals, although authorities have admitted that the most recent signal picked up by a plane on Thursday was thought unlikely to be linked to flight MH370.
Vessels will use the towed pinger locator to track transmissions until officials are sure the black-box batteries – which last about a month – have run out.
Once they die, a submersible drone would be sent down to the ocean floor for wreckage, but this would be a laborious and pain-staking task made difficult by silt., and it will be a long time before anyone is any closer to knowing what happened to flight Mh370 and the 239 people on board.
The Malaysian plane vanished on March 8, with 239 people on board.
It was flying from Kuala Lumpur to Beijing when it lost contact with air traffic controllers.