Search For Passengers Of South Korea Ferry Ongoing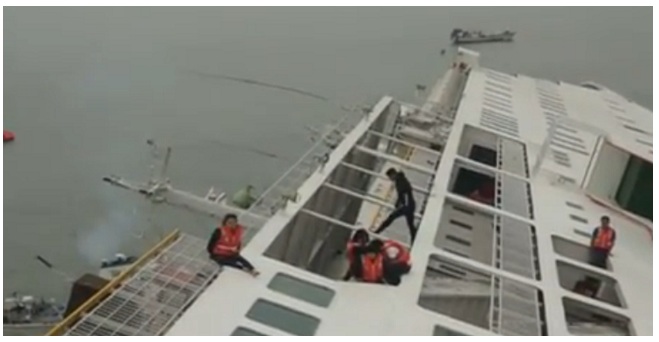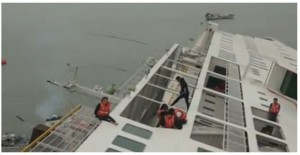 Emergency services are continuing to search overnight for almost 300 people missing after a ferry carrying 462 people sank off South Korea.
Officials say 174 people were rescued from the ship, which was travelling from Incheon Port, in the north-west, to the southern resort island of Jeju.
Majority of the persons on-board are students travelling to the island for educational purpose.
Emergency teams are using floodlights and flares to search the vessel for passengers into the night.
At least six people are thought to have died, with dozens more injured.
It is not yet clear what caused the ship to list at a severe angle and flip over, leaving only a small part of its hull visible above water.
Rescue efforts are concentrated on the ship's wreckage, which sank in 30 metres of water. Many passengers are thought to be trapped inside.
One senior emergency official was quoted as saying it was unlikely the remaining passengers would be found alive.
"I'm afraid there's little chance for those trapped inside still to be alive," Cho Yang-Bok told YTN television.
But the country's Prime Minister, Chung Hong-won, said there was not "a minute or a second to waste" in the search for survivors, urging those involved to do their utmost to save more lives.
Officials say the rescue operation involving coast guard, military and commercial vessels has been hampered by poor visibility and strong currents.
"There is so much mud in the sea water and the visibility is very low," said Lee Gyeong-og, vice-minister of security and public administration.
The US Navy has sent an amphibious assault ship, the USS Bonhomme Richard, to assist with the search.
Navy divers have managed to enter three compartments of the ship but have not yet found any bodies.
A coast guard official told Reuters that divers were later prevented from entering the submerged ship for several hours due to strong tides.
Rain, strong winds and fog are forecast for Thursday, and may hamper further rescue efforts, the news agency adds.
'Shaking and tilting'
Relatives of the missing have gathered in the town of Jindo, near to where ferry capsized, awaiting news of their loved ones.
Many of the passengers on board the ship were school students and teachers from the same school near the capital, Seoul, heading on a field trip to Jeju island.
The ferry sent a distress call at around 09:00 local time (00:00 GMT) on Wednesday after it began to shake and take on water, about 20km (12 miles) off the island of Byungpoong.