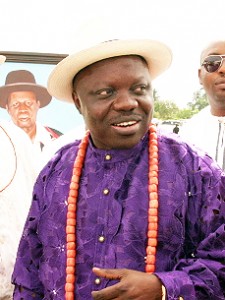 The Delta State Governor, Dr Emmanuel Uduaghan, has asked Nigerians to complement government's efforts at combating insecurity by being vigilant about strange movements and personalities in their environment.
In his Easter Message, Dr Uduaghan, stressed that the Federal and State Governments were doing their bests to deal with the rising insecurity.
He condemned the Nyanya Motor Park bombing, the Chibok, Borno State students' abduction and other negative incidents in the country.
The Delta State governor pointed out that the citizenry and parents had tremendous roles to play in stemming the rising insecurity, explaining that there was the compelling need for people to be watchful and vigilant.
At the Easter Sunday Service of the First Baptist Church, Warri, Dr Uduaghan tasked parents to take responsibility towards moulding the character of their children and wards to forestall the tendencies of engaging in criminal activities, as it has been observed that most of the crimes and deviant behaviours of people have their origin traced to the form and nature of values their parents and guardians inculcated in them.
The governor admitted that although Delta State was presently facing the challenge of cattle herdsmen whose activities had prevented some farmers from going to farm, explaining that measures are being put in place to deal with the issue.
He said that a committee had been inaugurated on the movement of cattle rearers in the state to curtail the excesses of herdsmen.
The Governor noted that that of the strange happenings and phenomenon around the world; like the missing Malaysian plane, were indications that human beings were limited in knowledge. "It also shows that there is a supreme being that is above all of us as human beings," he said.