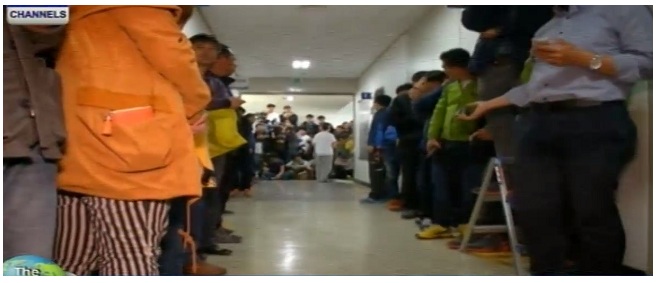 Anxious and angry relatives of scores of passengers still missing from the South Korean ferry disaster have confronted the Fisheries Minister and the Coastguard Chief.
The pair was surrounded by angry family members in a tent on Jindo Island where the rescue operation is being coordinated.
They spent all of Thursday night trying to explain the search effort.
At least 183 passengers have been confirmed dead, with 121 still missing.
There were 476 people on board, with many trapped inside as the ferry listed and sank within two hours of distress signals being sent. A total of 174 passengers were rescued.
Many of those who died or are presumed dead were students and teachers from Danwon High School, South of Seoul.
On a visit to Seoul on Friday, US President Barack Obama expressed his condolences for South Korea's "incredible loss" and offered America's solidarity.
"I can only imagine what the parents are going through at the moment – the incredible heartache," he said.
Prosecutors are said to be investigating whether modifications made to the ferry made it more unstable.
Factors under consideration include a turn made around the time the ship began to list, as well as wind, ocean currents and the freight it was carrying.
Reports have emerged indicating that the ship's sleeping cabins were refitted sometime between 2012 and 2013, which experts say may have inadvertently affected the balance of the boat.
Investigators on Friday said that life rafts and escape chutes on a sister ship to a sunken ferry were not working properly.
With bad weather and stronger currents expected at the weekend the government says that it is "mobilising all available resources" towards the rescue effort.